Spanish Students Skype with Guatemalan School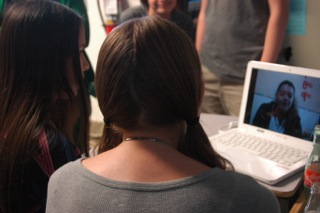 Students in intermediate Spanish classes have been practicing their speaking skills by skyping with the Howard Gardner American School in Guatemala.
Spanish teacher Janet McKinney coordinated with an old friend from Guatemala who works at the school. "This video chatting (Skype) activity with students in Guatemala has enabled students to use their Spanish in a real world setting and to connect with teens from another part of the world," said McKinney.
Students were split into groups and had the chance to practice their Spanish with native speakers. This speaking opportunity allows students to enhance their learning of the language and culture. They can also test their comprehension and speaking abilities. "It has required them to think on their feet and utilize what they have learned this year and in previous Spanish classes," shared McKinney.
Students surrounded the web camera in groups of three or four at a time and spoke with the Guatemalan students for a few minutes before switching. The conversation was projected for the rest of the class on the projector screen.
Most Horizon Honors students were surprised to discover the knowledge the Guatemalan students had of American pop culture compared to their lack thereof. The Guatemalans even sang a few lines of Justin Bieber's song "Baby," and Katy Perry's "Hot and Cold." The students discussed topics related to school, pop culture and sports. Popular questions involved the National Anthem, tourist attractions, and popular singers.
"It was a good opportunity for our students to connect with students in another country and see what their daily life is like. It was interesting to see how similar we all are. I look forward to doing it again," said Shannon Barden, middle school and high school Spanish teacher. The program will continue for the rest of the year in all of the Spanish classes.