Touching Base With Senior Athletes
Three seniors, Zachary Bledsoe-Downes, Bryce Pharr, and Garrett Leake, have all been on Horizon Honors' baseball team since their freshman year. The boys recount all their years of playing since they began and give us a glimpse of the future.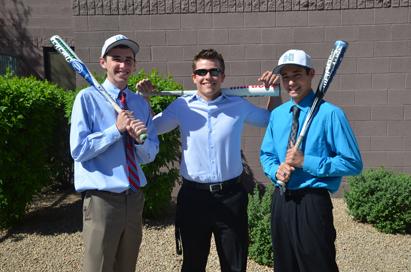 As the third quarter of the school year draws to an end, seniors are thinking of what's ahead for the future and recounting all of their high school experiences. For three seniors, Zachary Bledsoe-Downes, Bryce Pharr, and Garrett Leake, Horizon Honors' baseball team has been a large part of their high school experience throughout all four years. All three started the sport when they were very young and fell in love with it after years of playing.
"It's such a big part of my life at this point where without it, it would just be a loss," said Bledsoe-Downes. He began by following in his sister's footsteps, who played softball, as well as his dad, who played baseball at UCLA. His coming into the sport was thanks to previous generations. He kept with it, and when he had to make a choice between playing baseball or soccer at a young age, he ultimately chose baseball. And he still wants to continue with it. "It's always been a goal to play in college," he comments, "but playing here and getting the experience has definitely helped me move towards it."
Pharr has a similar story. Both his father and grandfather played baseball, "So it was kind of one of those things where they wanted their son to do it, and I liked it, so I just kept playing." As he plays, all Pharr wants is to give 110% and to do his best. With that, he hopes to go far and make it onto his college baseball team as well, the same way he made the team his freshman year. "I didn't know if I was going to make the team because I was coming from a middle school and I didn't know if I was good enough to make a high school team." But he did, and ultimately, he wants to "look back and say that I gave it my all at the end of the day."
Unlike his teammates, Leake has enjoyed baseball, but doesn't plan on continuing on after his time at Horizon Honors. "Baseball has been a hobby of mine, a great way for me to have fun and get to know people, but my passion isn't baseball," he says. But he has enjoyed it while he's played. "Baseball is a part of who I am. I have been playing since I was little and so playing every year in high school is what felt natural to me." In college, Leake wants to focus on his studies to get the best job he can. However, Leake, who is going to ASU, is hoping to join one of the intramural teams when he gets there so he can stay connected to baseball.
Despite their different paths and plans, all three seniors can agree on one thing: baseball is a team sport, and that's why they love it. "You have to work in unison and everyone has to do their part in order to be successful," Leake says. And, for anyone wanting to join Horizon Honors' team in the future, just be willing to try it. "If you like baseball, it's a great opportunity," says Pharr, "If you want to play, just come out and play."