Popsicle Recipe
Popsicles are fun and easy treats to make and are perfect for spring and summer! The recipe below will give you everything you need to enjoy homemade popsicles.
Supplies needed for a batch of six:
– Popsicle molds (cups and popsicle sticks can substitute)
– Medium bowl or blender for mixing
– Spoon to stir with if you're not using a blender
Ingredients:
– 1 cup of plain vanilla yogurt
– 2 cups of chopped strawberries
– 1 banana
– (optional) 2 tablespoons of honey to sweeten
Directions:
First, purée or mix the mixture of fruit and yogurt until smooth. After mixed, add honey if you choose to sweeten your popsicles. Then, pour the ingredients into molds or cups. If using cups instead of molds, add sticks in the middle of the liquid. If you want mini popsicles, do the same but with an ice tray and toothpicks! Put in freezer for three to four hours. If you used a mold they should pop out easily. If you used cups, turn them upside down and run warm water over if the treat doesn't pop out immediately. Enjoy!
Leave a Comment
About the Writer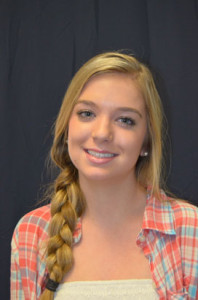 Kai Farley, Columnist
Kai is in grade 10 and is a 3-4 columnist and journalism student. She is from Huntington Beach, California and has been attending Horizon Honors for four years. She wants to continue writing for the Horizon Sun throughout her high school years. She likes journalism because of the  enjoyment the class brings and her passion to write.

Kai likes to hang out with her friends, go to concerts, visit California, and do community service work in her spare time. She hopes to go to a university in Washington or California after her high school career ends. She has many ideas for possible future jobs but isn't sure of her official profession right now.