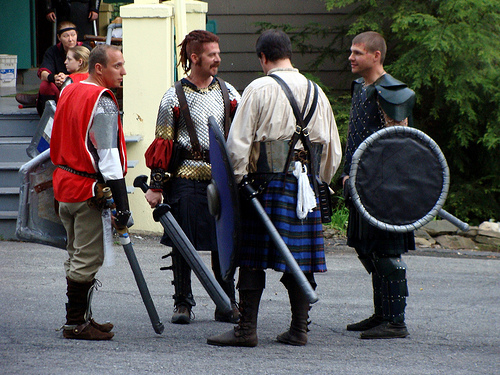 Live action role playing, or LARPing, has taken off in recent years and is steadily growing in popularity. It has expanded from humble beginnings as group cosplay events around the world into its own thriving culture with websites to help organize events, and large warehouse supply stores filled with equipment to help give you the best possible LARPing experience.
So what is LARPing? In simple terms, LARPing is essentially a role play game where the players physically act out their actions and use a plot of land or a venue as their playing area. Everyone brings costumes and weapons that they intend to use in battle, and they set out on a quest with various goals and objectives. Depending on the group there are varying levels of depth that players can choose. For example, the players could keep everything relatively simple and tame without large extravagant costumes and intricate weapons, while some other participants like to pull out all the stops. Many people will invest time in making their own platemail armor, create detailed wizard robes, or even carve arrows out of wood by hand. Doing this can be fairly expensive and take time and a good deal of talent, so there are many websites that would be willing to help anyone who feels their inventory is lacking.
There are LARPing groups around the world and many are looking for new members. There are several websites dedicated to organizing group LARPs, such as larping.com, and three groups based in Phoenix. If you are interested in looking for a group or learning how to participate visit larping.org or http://larp.meetup.com/cities/us/az/phoenix/ to find more information.