Books Make The Night Bright
This is an easy and fun DIY for the holidays or a decoration for around the house. You will be obsessed with this creation.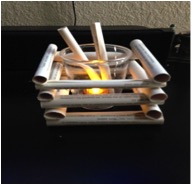 Do you love books? This new light is book themed for all you bookworms out there. This project can take anywhere from five to fifteen minutes, depending on the complexity of your personal design, but it is a mess-free DIY that is fun for the whole family.
Supplies:
Jar

Electric tea light

A book with pages you can rip out

Glue stick

1.) Rip out as many pages that you will need from the book.

2.) For every page roll it up and glue it together at the end.

3.) Glue those rolled up pages in any style you would like too (I choose to do the log cabin style).

4.) Insert the jar with the tea light to brighten up your night.
The DIY is a fast, easy, and great gift for someone, especially around the holidays. It makes the room light up with a nice warm feeling. If you want a sweet scent you can add a small freshener.