Chocolate Coca-Cola Cake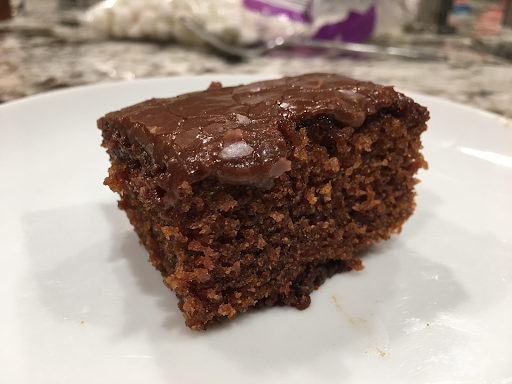 This chocolate Coca-Cola cake is a recipe from my grandmother that my father adapted. The way it is made is very similar to Texas sheet cake. The cake is moist and chocolatey and is one of my favorite cakes of all time.
Ingredients:
2 cup flour

1 ½ cup sugar

2 ½ sticks butter

2 oz. chocolate chips (a little over ¼ cup)

1 ½ cup miniature marshmallows

½ cup buttermilk (i

f you don't have buttermilk, add 1 ½ tsp of white vinegar to regular milk before you make the cake. Give it a few minutes to sour. It will have the same effect)

1 ½ tsp vanilla extract

2 tsp baking soda

¼ tsp salt

2 eggs

1 can of Coca-Cola

1 ½ tbsp cocoa powder

2 cups powdered sugar
Instructions:
Melt 2 sticks of butter in a saucepan. Add marshmallows, chocolate, and 1 cup of Coke. Cook until fully melted.

In a separate bowl, mix the flour, sugar, baking soda, and salt. Pour the chocolate mixture on top of dry ingredients and stir together. Stir in the eggs. Then add the buttermilk and 1 tsp. of vanilla.

Pour the batter into a 9 x 13 inch pan and bake at 350° for 30-35 minutes.

Right after removing the cake from the oven, start making the frosting. Melt ½ stick of butter in the same saucepan (you don't have to clean it between uses). Add the cocoa powder and 3 tbsp. of Coke. Stir mixture into powdered sugar. Add ½ tsp of vanilla. The frosting will have a tough consistency. Add Coca-Cola until it is smooth.

Pour onto cake while frosting is still hot. Spread evenly over the cake, making sure not to let too much of it pool at the edges. Allow the cake to cool completely before serving.

Serve and enjoy!