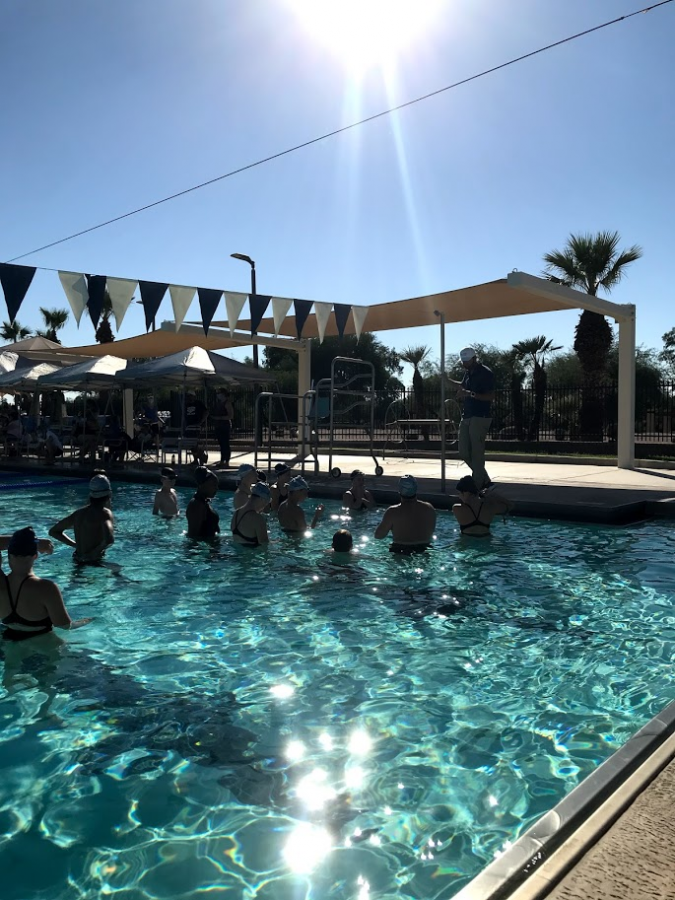 Kalyn McLeod
On Wednesday, the Horizon Honors Swim team took on their third meet of the season, against Valley Christian. This was the swimmers' first in-person meet this year, due to coronavirus worries. New precautions were put in place to ensure the safety of all the swimmers and spectators. With this new set-up, and actually seeing the competitors for the first time, nerves were high, but the Horizon Honors swim team pulled through with a great meet. Here are some of the highlights.
The team started the competition off strong with the medley relays. The women's team, made up of sophomores Hillary Glew, Ellie Hull, Kiera Hickie, and freshman Natalie Smith got second place with a time of 2:14.85. The men's A team (freshman Garret Hickie, sophomores Allister McLeod and Tanner Flushe, and senior Eric Sathers) really set things into motion after winning their relay heat with an astonishing time of 2:05.79. Freshman Dylan George finished the 200 freestyle with a 2:13.94 and got the second-place finish. More top finishes came in by Hull with a first-place finish on the 50 freestyle (28.78), Neil Ravikumar clenching second on the 100 butterfly (1:10.41), and a photo finish win by G. Hickie in the 100 freestyle (58.32). Now entering the second half of the meet, the swimmers' adrenaline was pumping and they came out with some fast times. In the longest event, the 500 freestyle, K. Hickie won second place with a time of 5:36.50. Glew, Smith, Hull, and K. Hickie swam a 2:02.85 in the 200 relay to land the second place spot. In the 200 freestyle relay, McLeod, Sathers, Flushe, and G. Hickie had a comeback from behind, scoring valuable points for the team coming in second. In the 100 backstroke Glew placed second with a 1:17.65, and G. Hickie finished off his meet with a 1:02.81 and a first place finish. And like brother, like sister, K. Hickie also finished her meet off with a first in the 100 breaststroke. Ravikumar landed a few final points finishing second with a 1:22.78.
Overall this was a great meet for the swim team. The girls final score came out to a total of 61 points, and the boys finished with an amazing 72 points! While this was not enough to win the meet, the Horizon Honors swim team put on a tough fight. This whole meet was a new experience for everyone, especially for the swimmers. There were no blocks to dive off of, which likely contributed to there being no personal bests. Due to the size of the team, it is harder for them to score lots of points compared to larger schools. But it is still the start of the season, and the team can only get better from here.