MS Baseball Soars to Playoffs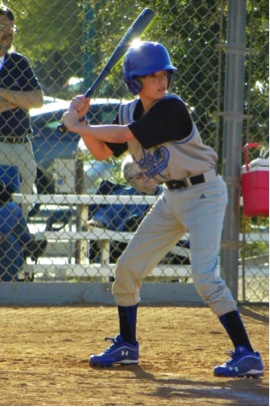 The Horizon Honors middle school baseball team ended their season with a great win with a guarantee to the playoffs win or lose. On Jan. 27, Horizon Honors played at their home field against Gilbert Christian at 3:55 pm.
The first inning was full of scoring between both teams. Three batters scored mostly from stolen bases. A batter was tagged out in between second and third base with teamwork by seventh grader Austin Deming and eighth grader Cameron Klein. The final out was from catcher Benjamin Rapaski, seventh grader, to first baseman Noah Ramirez. In the first half of the inning, Gilbert Christian scored three runs in its seven batters. Austin Deming, seventh grader Matt McBride, eighth grader Morrison Dietz, and Noah Ramirez all scored with three of them walked. The inning ended with a strikeout. The score was 4-3 with Horizon Honors in the lead.
The Horizon Honors team maintained their lead in the second inning. The first batter scored with a triple to first base. The two batters then struck out by pitcher Benjamin Deming. Gilbert Christian only scored once in the entire inning. However, Horizon Honors got five runs. The first three batters seventh graders Blake Benefiel, Benjamin Deming, and Austin Deming are walked but all scored from advancing or stolen bases. Then, Ramirez hit a single and scored from stolen bases. Horizon Honors had a five run lead over Gilbert Christian.
Horizon Honors had a good offensive inning going through their lineup completely and scored six runs. Two batters were out when Klein and Austin Deming caught pop flies. The following batter was walked, however the next batter struck out. Horizon Honors' first batter Klein was walked but scored after stealing to second. The following two batters – the Deming brothers – both hit singles and scored from stealing and advancement. McBride, Ramirez, and Rapalski also scored the inning. The inning eventually ended due to a six run mercy rule. Horizon Honors had a strong lead over Gilbert Christian with a score of 4 to 15.
The Horizon Honors team displayed great defense skills against Gilbert Christian in the top half of the inning. An out was thrown from shortstop Benefiel to first base Matt Butler. Then, pitcher Morrison Dietz struck out the next two batters ending the inning. Horizon Honors' next two batters Benjamin and Austin Deming were thrown out from shortstop to first base. McBride and Dietz hit a single and scored eventually. Brett Hogan was thrown out from fielder's choice, ending the game.
The Horizon Honors team ended their season with a 17-4 win. With four wins and six losses, the team is ranked eighth out of twelve. The first playoff game is on Jan. 30 at Paradise Valley Christian.