A Successful End for JV Volleyball
Junior Varsity Girls Volleyball finish their season off with a strong win against Yuma Catholic.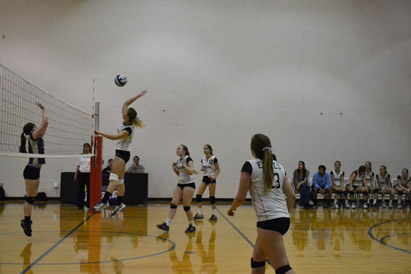 The season is slowly changing from fall into winter, and with the end of the temperate weather comes the end of the volleyball season. JV's last game took place on Thursday Oct. 30, in the Horizon Honors gymnasium. The Lady Eagles took on the Shamrocks from Yuma Catholic High School and won the game in two sets.
The first set began with an immediate lead emerging from Horizon Honors. Sophomore Michelle Ogle, number one, helped lead the team to a quick victory with her consistent aces. Ogle was the game's server twice during the first set, both times earning at least four aces throughout each duration of her time as the server. By the end of the first set, Yuma Catholic had only reached 16 points before Horizon Honors won their 25 points.
Horizon Honors did not start off the second set quite as strongly as they did the first, and as a result Yuma Catholic was able to pull ahead at times during the match. Freshman Hannah Glew, number 20, proved to be a valuable player by winning several points for her team by hitting the ball back over the net when the opposition team gave her an overpass. Freshman Roshi Patel, number nine, was also able to help out her team with her consistent serving and aces as well. The second set also ended 25-16 in Horizon Honors' favor.
The JV Girls Volleyball season ended with an overall record of 16 wins and one loss.  Ogle revealed the secret to their success: "We all trusted each other and always fought hard to get to 25." Although the Varsity team shall be attending the State Championships the weekend of Nov. 8, JV's season has officially been put to an end.