Varsity Volleyball Celebrates Seniors
Horizon Honors' Varsity team wins playing against Yuma Catholic on Thursday Oct. 30 at home.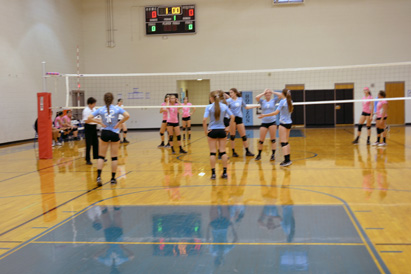 On Thursday, Oct. 30, Horizon Honors Varsity team had their last game of the season. The team and audience celebrated Savannah Cunningham and Timberlyne Ziuraitis and their achievements for senior night. They both received flowers, a present, and balloons from the team. Junior Danielle Moran, number 18, sang a beautiful performance of the National Anthem, and the game began.
The first set started off with Horizon Honors' sophomore Joliana Sadler, number five, serving. Horizon Honors won the first nine points and then there was a timeout. Yuma Catholic came back and scored the next two points. Sophomore Guiliana Castronova, number three, made a valuable and necessary dig but, unfortunately, Yuma Catholic won the point. Castronova and sophomore Alexis Gomes, number 15, both made key moves and earned Horizon Honors a point. The final score for the first set was 25 to eight, in Horizon Honors' favor.
Yuma Catholic served on the first set and Horizon Honors scored the first point. It was a fair beginning, Yuma Catholic would score, then Horizon Honors, and so on. Moran made two important blocks and Horizon Honors won the point. It was a close set, having a tie at 17 at one point. Moran made a strong spike, once again winning a point for Horizon Honors. The final score for the second set was 25 to 20.
The crowd started off the third set by chanting the "I believe that we will win" chant. Horizon Honors makes the first serve and the first point. Sadler makes a well-needed dig, helping to win the first point. During this set, Cunningham tripped over freshman Erica Kendree, number 21, which resulted in an injury to Cunningham. The team's sportsmanship and care for one another really showed while they got her ice, made sure she was going to be okay and helped walk her to the side. Even Yuma Catholic showed sympathy for Cunningham. Horizon Honors had a small winning streak, winning five points. Later, Gomes made a powerful spike that won another point for Horizon Honors. The Horizon Honors' fans stood up when Horizon Honors had one more point to go and Yuma Catholic made them wait five points before Horizon Honors won the last point of the set and game. The final score for the third set was a close 25 to 23, Horizon Honors.
Horizon Honors' Varsity team played a great game, winning in three out of five possible sets. Ziuraitis said ,"I'm really sad [that this is the last game of the season]. But I'm excited for sectionals. I think we all are." Everyone seemed to agree that they were excited. What a special way to end the volleyball season for Horizon Honors.