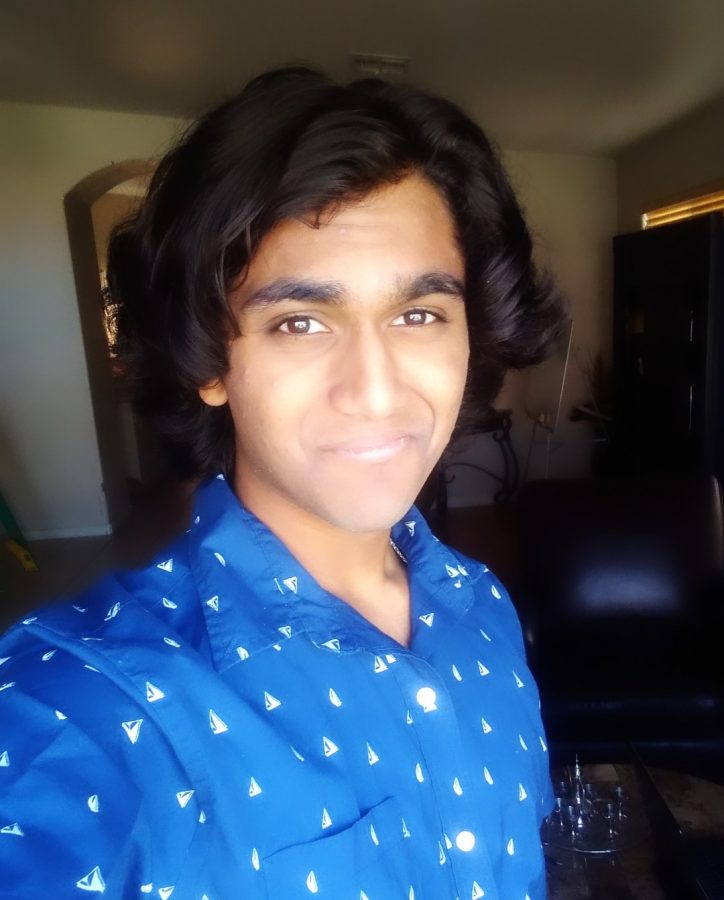 Pradyoth Velagapudi is a junior at Horizon Honors and managing editor for
The Horizon Sun
. When he's not hard at work as an editor, he's either nose deep in a good book or hanging out with his friends. In his spare time, he likes writing, reading, playing video games, and practicing the saxophone. He has been a Horizon Honors student since kindergarten. 
Outside of school, Velagapudi participates in Scouts BSA. He enjoys boy scouting for its many outdoor adventures, and during his 7 years as a scout, he has been hiking, horseback riding, indoor skydiving, backpacking, kayaking, and even scuba diving. Velagapudi earned his Eagle Scout rank in January 2020. 
Velagapudi is also an active member of Model United Nations. He is the president of Horizon Honors' Model UN club and has won several distinguished delegate awards (at the U of A and MCC conferences). His favorite events are "crisis committees," fast-paced and loosely moderated debate sessions concerning specific geopolitical issues. 
An avid reader, Velagapudi enjoys devouring any books he can find, from science fiction and fantasy to history and political theory. He particularly enjoys comics, and his current obsession is the DC supernatural horror series
John Constantine: Hellblazer
. 
Pradyoth Velagapudi, Managing Editor
Jun 02, 2017

Great Job! 10 Weird Careers That Actually Sound Pretty Awesome

(Story)

May 31, 2017

Slurs in Sports: Native American Sports Team Names and Mascots

(Story)

May 28, 2017

Holy Cow! Six Myths About Hinduism Debunked

(Story)

May 28, 2017

"Band-amonium" Breaks Out at Secondary Band Concert

(Story)

May 18, 2017

English: The Language of a Thousand Faces

(Story)

May 18, 2017

Vegetarianism: The Environmental Effects of a Meat-free Diet

(Story)

May 18, 2017

If It Ain't Book, Don't Fix It!

(Story)

Apr 21, 2017
Apr 06, 2017

Fun and Creativity Unfold At Horizon Honors Origami Club

(Story)

Apr 01, 2017
Mar 13, 2017

Trump's Wiretapping Claims: What You Need To Know

(Story)

Mar 04, 2017

Wind Ensemble and Concert Bands "Strike a Chord" At Concert

(Story)

Feb 24, 2017

Convince Your Parents To Get You That Puppy: How To Use Rhetoric To Your Advantage

(Story)

Feb 23, 2017

Project Group 2.0: Individual Learning, Growth, and Creation

(Story)

Feb 10, 2017

The History of Valentine's Day

(Story)

Feb 02, 2017

Trump Dumps Immigrants and Refugees

(Story)

Jan 27, 2017

Dutch Oven Dessert: Double Chocolate Cake

(Story)

Jan 23, 2017

By Word of Mouth: The Art of Language Construction

(Story)

Jan 12, 2017

Things Turning Older This Year (This Might Make You Feel Old, Too)

(Story)

Dec 15, 2016

Dive Into the Holidays: DIY Pool Noodle Christmas Wreath

(Story)

Dec 09, 2016

Deck the Halls With History

(Story)

Dec 04, 2016

Horizon Honors' Secondary Bands Toot Their Own Horns

(Story)

Nov 23, 2016

A Truly Magical Experience

(Story)

Nov 19, 2016

Just What the Doctor Ordered

(Story)

Nov 11, 2016

What's Next For Marvel: MCU Analysis and Predictions

(Story)

Nov 04, 2016

Middle School Soccer Comes Out On Top

(Story)

Oct 28, 2016

Costumes, Candy, and Carousing: A History of Halloween

(Story)

Oct 22, 2016

A Truly Haunting DIY: Pepper's Ghost Illusion

(Story)