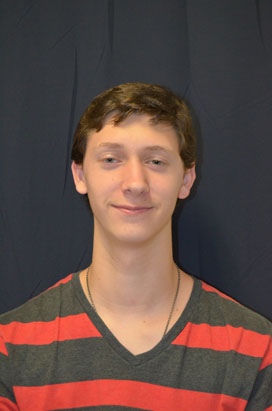 Ryan is an aspiring photographer who plans to go to college and major in Film. Ryan has been going to Horizon Honors since kindergarten and now is a Senior. He is in Yearbook 5-6 and Journalism 5-6, and is an image editor in both classes. In five years Ryan hopes to be in college and studying Film. Ryan is also part of Horizons school plays. He was the photographer during
"The Sound of Music", 
and he is the photographer, graphic designer, and concessions coordinator for  
"Anything Goes"
and hopefully for
"The Pajama Game
".
When Ryan is not in school he can be found at either his job, his house, karate, or part of the school plays. Ryan works at Firehouse Subs. When he is not at work he spends time taking photos with his mother, who does photography on the side for Mountain Point High School. Also, when Ryan is home, he reads his favorite book series (
Percy Jackson and the Olympians
, and
The Heroes of Olympus
). Ryan also enjoys playing video games, mostly RPGs, on his Xbox 360 or Mac-Book pro. Ryan can also be found playing with his golden lab retriever, Dusty; watching movies, or spending time at his dojo. Ryan is a black belt in Wado-ryu and has been practicing martial arts since 2005. Ryan was part of  
"The Sound of Music"
and he is part of
"Anything  Goes". 
Ryan Deitchman, Editor, Photography
May 23, 2015

Senior Send-Off: The Deitchmaster

(Story)

May 23, 2015

People of the Press: Week 100

(Media)

May 15, 2015

Yearbook Distribution

(Story)

Dec 10, 2014

Audition Woes Alleviated

(Story)

Mar 11, 2014

Morp: Slam Jam Space Jam

(Media)

Dec 20, 2013

Percy Jackson and the Sea of Monsters: Movie vs. Book

(Story)

Dec 07, 2013

HS Boys' Soccer First Home Game of the Season

(Story)