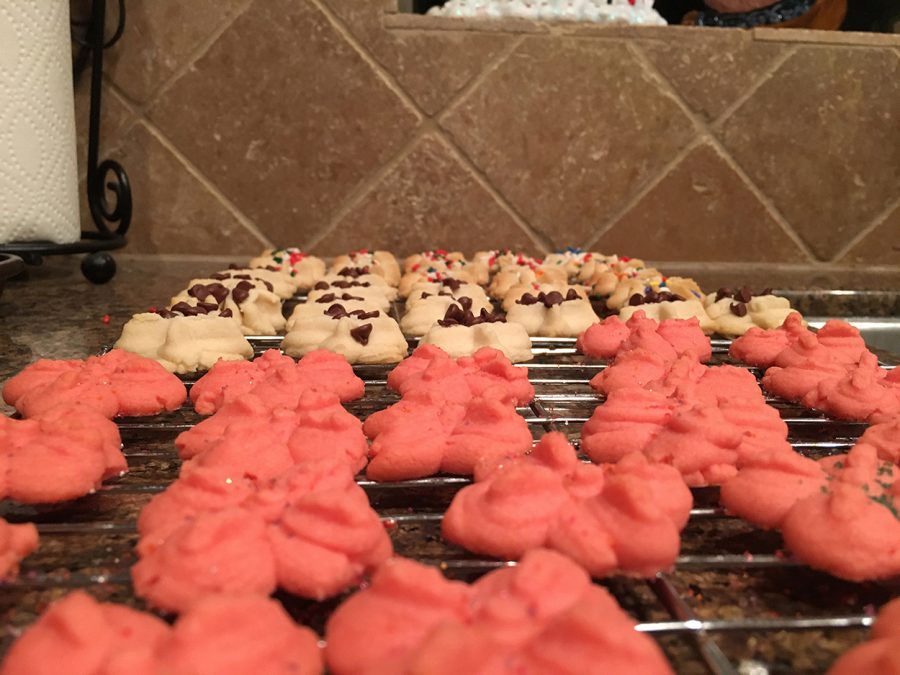 These holiday cookies are small but are part of a larger tradition in the biggest city in the country. These cookies are given to friends and family (when you have no idea what to get them, in all honesty) around the holidays.
Makes about 2 dozen.  
Ingredients/Materials:
1 cup softened butter
½ cup powdered sugar
2 teaspoons vanilla extract
2 cups all-purpose flour
¼ teaspoon salt
Food coloring (optional)
Sprinkles (optional)
Chocolate chips (optional)
Electric mixer
Large bowl
Smaller bowl
Something to stir with (I like to use a fork)
Rubber spatula (optional but highly recommended)
Wire cooling racks
Cookie sheet
Parchment paper (optional)
Cookie press (optional)
Directions
Preheat oven to 325 degrees.
Soften the butter in the microwave, but don't melt it.
Mix the butter and sugar in the large bowl with the electric mixer on low until it has the consistency of cake batter. Push down the mixture that gets stuck on the sides of the bowl with a rubber spatula to help it mix evenly.
In a separate bowl, mix the flour and the salt. I like to use a fork for this step because its size doesn't get in the way like a whisk can.
Add in about a half of a cup of the flour and beat until it is evenly dispersed throughout the mixture. Continue to add the flour in this manner until all the flour is added. Again, use the rubber spatula to push down the dough that gets stuck on the sides of the bowl.
This step is optional but if you want your cookies to be colored, add in the desired amount of food coloring.
Then prepare your cookie sheet with the parchment paper. If you have a cookie press, use it to form the shapes of the cookies. If not then you can just shape them into 1-inch balls or little crescents.
Before putting the cookies in the oven make sure you put whatever toppings you would like on top.
Put the cookies in the oven for 8 minutes.
Take them out of the oven and let them cool on a wire rack.