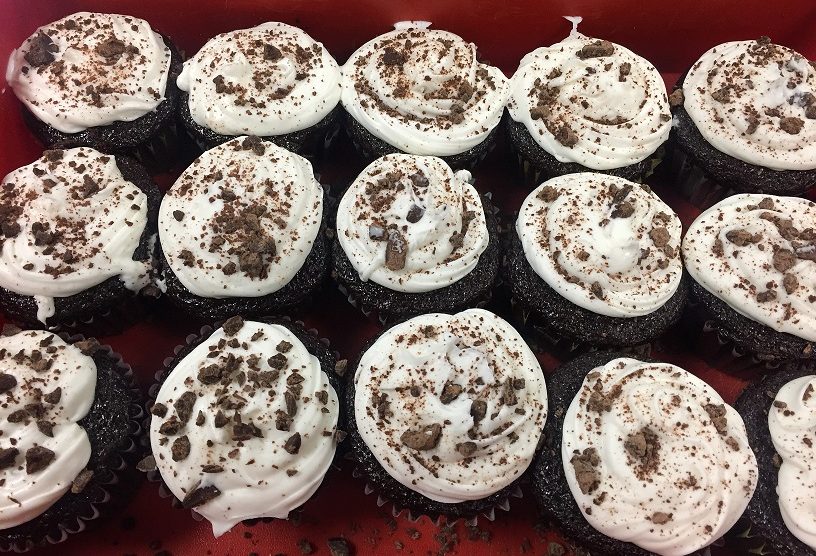 Do you love cupcakes? How about cookie dough? Well, get your oven mitts on, because below is a recipe for chocolate chip cookie dough cupcakes. You read that right.
Ingredients (makes 12 cupcakes):
Cookie Dough:
⅛ teaspoon of baking soda
⅛ teaspoon of salt
¾ cup of flour
¼ cup of brown sugar
½ cup of chocolate chips
1 teaspoon of vanilla extract
2 tablespoons of granulated white sugar
2 tablespoons of milk
4 tablespoons of melted, unsalted butter
Cupcakes:
¼ teaspoon of salt
½ cup of unsweetened cocoa powder
½ teaspoon of baking soda
½ of vegetable oil
¾ cup of hot water
1 cup of granulated white sugar
1 cup of flour
1 egg
1 ½ teaspoons of vanilla extract
Frosting:
½ cup of softened, unsalted butter
1 teaspoon of vanilla extract
3 tablespoons of milk
3 cups of powdered sugar
Procedure:
Cookie Dough:
Mix together the salt, flour, and baking soda
In a separate bowl, mix together the vanilla, sugars, milk, and butter
Pour the powder mix into the liquid mix and stir
Make small balls out of the dough, and freeze for half an hour
Cupcakes:
Preheat oven to 375°F
Put cupcake liners in a cupcake pan
Mix together the salt, baking soda, cocoa, sugar, and flour
Add in the vanilla, oil, egg, and water
Put a little bit of batter into the bottom of the cupcake liner
Set ball of cookie dough on the mix
Fill the rest of the liner with batter, completely covering the cookie dough
Set the cupcake pan in the oven for 23 minutes
Take out and let cool, then frost and garnish with chocolate chips or chocolate shavings
Frosting:
Beat butter until creamy
Gradually beat in sugar until smooth
Beat in the vanilla and milk
These cupcakes were very easy to make, and I thought the finished product was delicious. If you want a jazzed-up cupcake, this recipe is perfect for you.