Gingerbread Men Recipe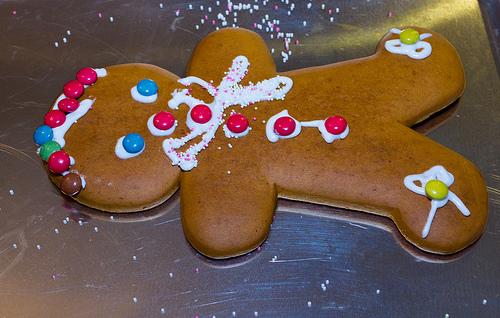 If you are anticipating Christmas just like every department store in America, then this recipe for traditional gingerbread cookies is just the thing for you to impress your friends and family this holiday season.
Ingredients:
– ½ Cup of butter
– 1 Egg
– ¾ Cup Brown sugar
– ¼ Cup sugar
– ½ Cup of molasses
– ½ tsp. Nutmeg
– ½ tsp. Cinnamon
– 1 tsp. Ginger
– 1 tsp. Ground cloves
– ½ tsp. Baking powder
– ½ tsp. Baking soda
– 2 Cups Flour
– ½ tsp. Salt
Directions:
Before you begin mixing any ingredients together, you should wash your hands thoroughly, and preheat your oven to 375° F.
Step 1: In a large bowl, mix your butter, egg, brown sugar, sugar, molasses, nutmeg, cinnamon, ginger, ground cloves, baking powder and soda until it is nice and smooth.
Step 2: In another bowl, mix your flour and salt together. Once it is mixed thoroughly, gradually add it to your first bowl.
Step 3: You will want to chill your dough for at least 30-45 minutes.
Step 4: Once your dough is chilled you will need to cut your dough into the shape of gingerbread men. Or for added fun, you can make animals or any other shapes that your heart desires!
Step 5: Set your gingerbread people/animals/objects on an ungreased cookie sheet, and then into your oven to bake. The baking time will vary depending on how soft or hard you want your cookies to be. The recommended baking time would be 8-10 minutes, or until the edges are firm
Step 6: Once your cookies are nice and cooled, now comes the easiest and most enjoyable part of making gingerbread people/animals/objects: decorating them! Like the previous step, decorating is based on personal preference. You may want to go traditional with white frosting, or maybe cover your gingerbread people in gumdrops from head to toe. Whichever you choose, it's sure to be one delicious cookie!
View Comments (1)