Sister Cities Program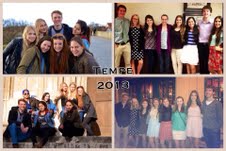 Gabrielle Petersen, grade 11, is participating in a program called Tempe Sister Cities, where she will travel to Germany and live there for six weeks over the summer.  The program selects 32 high school juniors from Tempe to travel to nine different countries for six weeks during summer. "Their purpose is to try and cultivate friendships between different teens from across the world in order to develop a global community, and give ordinary teenagers who live in Tempe the opportunity to travel that they wouldn't have on their own." says Petersen. After initially applying for the program, there are a series of three interviews. If accepted, you're paired with an unknown teen in a different country. For six weeks, you spend time in your "brother" or "sister's" country living and experiencing the culture in their home. Following this, the "brother" or "sister" will come to Arizona to live with the Tempe resident for six weeks. The idea of the program is to experience the country from the perspective of someone who lives there rather than as a tourist.
Petersen was interested in the program after hearing about it through a friend. "I hope to gain a fun cultural experience that helps me grow personally. I also hope to gain lots of new friends, from both Germany and Tempe." She is nervous about becoming homesick of her family and hobbies like horseback riding. Before her trip to Germany this summer, she is required to take German classes at Tempe Sister Cities (TSC). The curriculum teaches history, language, and what to expect from the people and country culture wise. She is very excited about bringing her German sister,Carina, to Tempe and having her meet her friends. The girls have been communicating through Skype and already have a close bond.