Saving Mr. Banks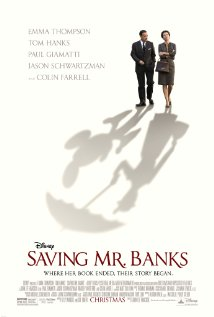 Saving Mr. Banks is a true story that is heartfelt and emotional.  Throughout the plot, we follow the fight between P.L. Travers (Emma Thompson) and Walt Disney himself (Tom Hanks), who is attempting to buy the rights to her book, "Mary Poppins." Travers, who is unwilling to submit and hand over Mary, finally relents after years and years of begging, haggling, and promises.
Travers agrees to hand over the rights so long as she has a say in absolutely everything that has to do with the production.  So she flies over to the Walt Disney Studio in America, taking with her every ounce of stubbornness she possesses.
Once in America, she meets her friendly driver, Ralph, as well as the songwriters for Mary Poppins, who call themselves the Sherman Brothers.  Naturally, she also meets Walt Disney.  Before her plane even lands, Travers regrets her decision to hand over the rights.  To add to her stress, her earlier memories, most of them unwelcome, are starting to make themselves prominent. The team eventually perseveres through the arguments, memories, tears, and their vast differences to complete their goal and change themselves for the better.
The film showcased the all the roiling emotions of Travers and Disney, reminding us that no matter how rough the edges are on a person, they can also be softened.  I am thoroughly impressed by the movie and acting, and can easily give it four and a half stars.