Dr. Quinn is Forever a Win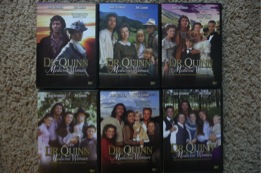 The 1990s show Dr. Quinn: Medicine Woman, follows a young woman into the western frontier. She is the first woman doctor in the town. She meets a white man, who lives with the Cheyenne, and later they realize their feelings for each other. Byron Sully (preferred to be called just Sully), the Cheyenne white man, is always ready to help Dr. Quinn and her children through their hardships, even if he disagrees with it. Even though Sully is friends with the Cheyenne this shows that anybody can be friends, no matter what race you are. The first episode of this show was in 1993.
In each episode there is always adventure, love, and understanding. In The Abduction, Quinn gets abducted by some "Indians" for a mistake. Sully searches to the ends of the earth to find and save her. In Cooper v.s Quinn, the children's father, with his new wife, comes back to take them to San Francisco. After the children and Quinn say no, Mr. Cooper forces them. The family will do anything in their power to keep them with them, even the whole town is determined to let them stay.
Throughout every season the characters in this show progress more into the future and they begin to understand new things. The final episode was made in 1998, which ended it showing on television. This show is still made on discs and tapes, so fans may still see the show to this day. I like the thought of putting the show on DVDs it lets the person see whatever episode when they want.
My family and I really enjoy the show, and I watch it every day. I really love the times back in the 1800's to the 1900's, and it's really inspirational, like to follow your dreams, stand up for what you believe, don't give up, to keep peace in the world, and more. This program also shows what life was like in the Western frontier and how life was progressing and the population growing larger.
Leave a Comment