Standardized Tests: Start Preparing Now!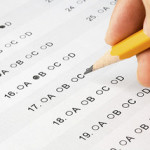 The SAT and ACT tests are one of the most important steps in getting accepted to college. In order to do well on these exams, preparation is vital. Studying is the only way to gain the confidence and necessary knowledge to score well on either test.  Fortunately, there are numerous tools available to aid you in the process. Daily questions, review guides, and practice tests are all available for you to study.  You can prepare effectively by starting early, setting a pace, and learning which areas need the most practice.
Regardless of the study methods you use, it is important to plan ahead and allocate enough time to be fully prepared.  Last minute studying, which does not maximize the chance of a high score, should be avoided.   Create a goal of the score you would like to get, and create a study plan with specific times set aside for studying.  Having a goal will help motivate yourself, and a plan will keep you on track to avoid procrastination.
Studying does not always need to involve long, tedious hours; a little work each day can increase your scores significantly.  The College Board, which creates the SAT, offers daily questions which are similar to ones seen on the test and can be viewed on their website, sat.collegeboard.org, or sent directly to your email.  The ACT also offers a daily question on the website actstudent.org/testprep.  Spending a few minutes doing just one question a day can help you study and become more familiar with the type of questions used on the SAT and ACT.  Additionally, to help increase vocabulary for these tests, look up words you do not know, write them down, and review a few of them each day.
Official and unofficial review guides are widely available from libraries and bookstores.  Official study guides are beneficial study tools because they contain questions made by the makers of SAT and ACT, while other study guides are made by outside parties, and may not be as accurate.  Though not official guides, books such as Up Your Score, which includes tips and study tools and is written by students who score extremely high, can be helpful as well.  When using review guides, you should read all the reasons for answers, even if you got the question correct, in order to learn what types of reasons are used to determine a correct answer.  For incorrect math questions, you can go back and review the specific concept for increased clarity.  Pinpoint the areas in which you struggle most, and spend extra time focusing on them.
Besides studying questions and words, it is important to learn how the test works.  For example, knowing penalties for incorrect or blank answers can help in the studying and test taking processes.
However, taking practice tests is the best way to study for the ACT and SAT.  When taking a full-length practice test, you should sit in a quiet area and set a timer for the amount of time given for each section.  After you complete the test, you should go through the questions you found confusing or got wrong.  By taking practice tests, you can learn to pace yourself and finish within the time frame.
By making use of study resources online and in review guides, along with taking practice tests, you can completely prepare yourself for the SAT and ACT.