DIY Sunflower Shorts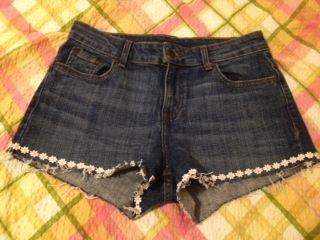 Florals and denim are popular summer trends, so it is not surprising that many fashion retailers have combined them.  Lucky Brand recently sold denim cut-offs with a sunflower trim for $70. However, it is not too hard to recreate this seasonal trend on your own for less than $15.
Supplies:
-High-waisted denim jeans
-1.5 yards sunflower lace trim
-Marker
-Scissors
-Fabric glue
–Tweezers
Instructions:
1. Visit a local thrift store, or your own closet, to find a pair of high-waisted denim jeans.
2. Try them on and make marks using the marker to get an idea of what length you want.
3. Use scissors to cut the jeans into shorts. Measure to check each side is the same length.
4. Use tweezers to pull at the ends of the shorts to get that cut-off distressed look. Try to pull at the white threads for best results.
5. Glue the sunflower lace trim around the edges of the shorts and overlap one sunflower on top of another near the inner leg, where the strand connects. Follow the instructions on the glue bottle for drying time.
6. Wear your new shorts!