Celebrating Summer Solstice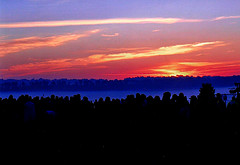 June 20 marks the Summer Solstice, the official beginning of summer. Citizens of New York have a unique way of celebrating the Solstice with yoga in Times Square. The event hit its 11th consecutive year on June 20, 2013. All traffic was stopped to allow more than 15,000 yoga enthusiasts to participate in free yoga classes that started in the early morning and continued until sunset. Tim Tompkins is co-founder of the event, and said that the popularity of the event is due to the opportunity it gives for a peaceful break from an otherwise busy city.
While New Yorkers are doing yoga in Times Square, thousands of people traveled to Stonehenge to celebrate the beginning of summer. Nearly 21,000 people gathered to experience the beauty of the Solstice for personal or religious reasons. "There are some very serious druids here in their long cloaks, taking it very solemnly. There are also some party-goers, and ordinary visitors who love the atmosphere," said Rachel Royce, a BBC Radio Reporter. Police arrived at Stonehenge with drug dogs, which proved effective because 22 people were arrested for drug possession. Otherwise, police said that the majority of people were respectful. For many, the Summer Solstice was well spent doing yoga or visiting a historical landmark.