Pumpkin Spice Latte Recipe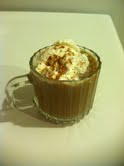 September is here, and so are the lines of fall foods and drinks. Both Starbucks and Dunkin Donuts are featuring their pumpkin spice lattes that, year after year, hold the number one spot for best holiday drink. But you don't have to pay for their secret recipes; you can create the syrup and add it to your coffee each morning.
PUMPKIN SPICE SYRUP
Start to finish: 40 minutes
Servings: 12-15
Ingredients:
2 ½ cups of water
1 tablespoon of ground nutmeg
½  teaspoon of ground ginger or ½ inch piece of ginger
1 cup of sugar
3 tablespoons of canned pumpkin
To prepare the pumpkin spice syrup, combine nutmeg, ginger, pumpkin, sugar and water in a medium pan. Boil the water and spices, then leave to simmer for 20 minutes. To strain the water and spices, pour water through a coffee filter over a bowl of pan. After strained, add sugar and pumpkin the mix. Simmer for another 10 minutes. Put in refrigerator until cold.
PUMPKIN SPICE LATTE
Start to finish: 5-10 minutes
Servings: 1
4 ounces of warmed and frothed milk
4 ounces of espresso
2-3 tablespoons pumpkin spice syrup
whipped cream (optional)
To froth the milk, pour 4 ounces of milk (or as much as desired) into a jar that has a lid.
Shake as hard as possible for 30 seconds or whisk after heating until foamy. Remove lid and microwave for 30 seconds.
Pour 4 ounces of espresso or strong coffee into a coffee cup. Pour 2-3 tablespoons of pumpkin spice syrup into the coffee. Add in frothed milk and stir. Whipped cream and a dash of ground nutmeg can also be added as an extra touch.