Easy, Breezy, Caprese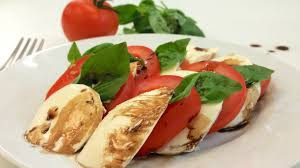 Growing up in an Italian household, our meals ranged from deluxe Italian meals to simple, home-cooked foods like pasta. However, Caprese salads never disappoint. This recipe is as easy as an Italian recipe will get, and within just ten minutes, you can taste the authentic Italian culture yourself.
Ingredients:
3 ripe tomatoes (cut into ¼ inch thick slices)

1 pound of fresh mozzarella (sliced into ¼ inch thick slices) 

20-30 leaves of fresh basil

Olive oil as desired

Balsamic vinegar as desired
Steps:
Layer the plate with the slices of mozzarella 

On each slice of mozzarella, place a slice of tomato

Lay some basil on each layer 

Drizzle with oil and balsamic vinegar 
After following these few simple steps, you should have a delicious caprese salad!