Pom-Poms Are The Bomb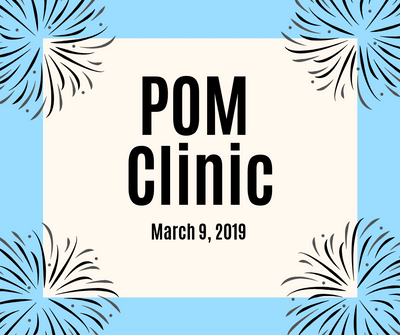 The Horizon Honors cheer team is hosting another POM clinic on Saturday, March 9, from 10 a.m. to 1:30 p.m. Anyone who is in seventh-eleventh grade can attend this clinic. You get to learn alongside some of our cheerleaders how to perform POM techniques, kick lines, and sideline dances. For this 3 ½ hour clinic, there is a $25 learning fee that has to be paid after filling out the registration paperwork, which is available in the front office. Any questions can be answered by Mrs. Wengrzyn (in the front office) or emailed to [email protected].
Attending the clinic can be a great way to create new friendships with people who have interests similar to your own and develop your cheer skills. Any person regardless of skill level can attend because there's always more room for improvement. Some of the cheerleaders will be there to help and guide everyone, along with the coach who will be there teaching.
The Horizon Sun: What will people be able to learn from this clinic?
Coach: The students who attend the POM clinic will learn the basics of dance technique such as leaps and turns, kickline, and sideline routines that are performed at events such as the Horizon Honors basketball games. The clinic will be 3 ½ hours, so there will be plenty to learn.
The Sun: Why should people join the POM/cheer team at Horizon Honors?
Coach: Students who enjoy dance and cheer are encouraged to join the POM/cheer team at Horizon to show their spirit and get involved! Spiritline is an opportunity because we do so many different things—we get to perform at games, events, and even compete!
The Sun: How would you describe the team with one word?
Coach: Grit is the word that describes spiritline. Our athletes work hard to prepare stunts and routines before every performance and game day year-round and have fun doing it with their best friends by their sides. The teamwork and leadership of these girls and boys is incredible and adding the POM team with the dancers to the mix will be great for the 2019-2020 season.
The Sun: What are the goals for this clinic?
Coach: Spiritline wants to introduce students to the difference between POM and cheer and recruit students for the 2019-2020 Horizon Honors High School POM team. If you are looking to check out an upbeat, brand new organization come to the front office and sign up for the POM clinic on Saturday, March 9th.