Class of 2013 Takes Flight
On Tuesday, May 28th, the senior class of Horizon Honors entered Sun Valley Church for the last time as Horizon students and left as young men and women bound for university level educations. Surrounded by their extended families, friends, and teachers, 92 students graduated with honors and took the next step in their lives. Cantabile Honors Chorale performed the traditional Horizon graduation song "On Eagle's Wings" and an a Capella version of "I Hope You Dance," while a double octet from Symphonic Band played "Pomp and Circumstance," "Allegro Molto," and "Menuetto and Trio." The Horizon graduation has elements of a traditional graduation ceremony; students were decked out in mortarboards and colored tassels indicating their community service involvement and grade point average, they were presented with their well earned certificates, and they were cheered on by their families and peers. However, the ceremony had a component unique to Horizon Honors; each student had a video speech given by someone close to them wishing them well and giving them advice for their futures. The videos ranged from tear-jerking to hilarious, and several included musical numbers, embarrassing stories, and baby pictures. The small size of the average graduating class at Horizon allows for these highly personal touches in the ceremony, which just goes to show how Horizon's intimate environment carries over, even in a student's last moments as an Eagle. The graduating class was awarded over $6M in scholarships, an accurate representation of the drive and determination of the class of 2013. They'll be greatly missed around campus, but we know they'll do great things in the future.
About the Writer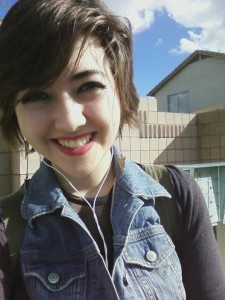 Jaime Faulkner, Editor In Chief
Jaime, grade 11, is a first-year Journalism student. She wanted to take the class to help it progress as a course and improve her writing, as well as assist...