Morp: Slam Jam Space Jam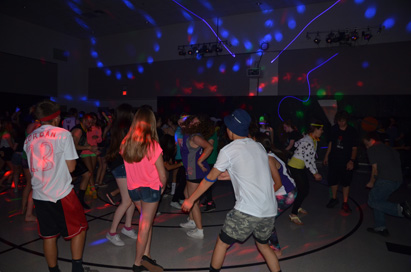 MORP is a dance that was added to Horizon Honors' social calendar to include the underclassmen during prom season. It provides another fun opportunity for students to enjoy each other's company and dance the night away. This is a casual dance meant for all highschoolers. Like Sadie Hawkins, the girls ask the guys. It is a nice change from prom because of the cheaper price, the casual theme, and the lack of dress code.
On Friday, March 7, MORP was held in the multipurpose room. The theme originated with the 90s movie with Michael Jordan and The Loony Toons called Space Jam. Decorations included glow-in-the-dark splatter paint and every decoration was neon or black to match the space theme. Sophomore Rachel VanGorp said, "It was a really fun night and the smoke machine was a nice surprise." The lights featured bright colors, with laser beam and strobe effects. Student Council member, sophomore Rex Bartlett says before the event,  "there will be fun craziness," and there certainly was.