National Junior Honor Society: Helping the Elderly
For almost this entire school year, students in National Junior Honor Society have been putting together decorative crafts to help celebrate the wonderful Holidays in a local nursery home's dining room.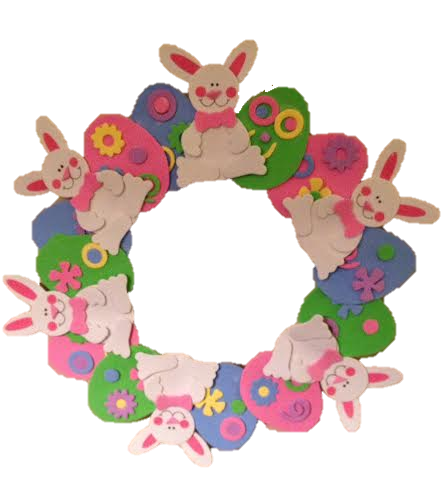 Over this entire school year, members in National Junior Honor Society (NJHS) have shown their kindness and caring hearts to elders by creating decorations. Over this recent week, the students put together decorations that had a theme of Easter, which will be hung on the dining room windows in a welcoming nursing home called Village Oaks. This event always takes place on Saturdays from 9:45-11:30am at Village Oaks.
Adviser of NJHS, Lisa Di Chiara, said that the people at the nursing home appreciate us and are excited. "Everything is good, and we are welcomed there." Each time we receive a thank you letter from a resident, and the elders are so appreciative and thankful. Member Shannon Binkley enjoys helping people and taking part in community service projects. Lindsey Reed said, "I like making the decorations, because even though I can't directly help them, I can make their day by making something." If they were able to change something about this event, Binkley and Reed said that there could be more community service project opportunities and we could go out, buy, and make our own decorations to have more of a variety.
Before the members began making the decorations and setting them up in Village Oaks, all of the NJHS officers come together and discuss which twelve decorations would be nice to do for the nursing home to enjoy. All of these crafts have been completely different and exciting for the elders to glance at. If there are residents in the nursing home who have been feeling down, our decorations will hopefully spruce them up and make the room look more ready for whichever holiday it is. For Spring, some of the decorations we had were wreaths, butterflies, and Easter eggs.
When all of the decorations were turned in, members helped pack them up in boxes to prepare them for setting up in the nursing home. At Village Oaks, NJHS members worked together to tape them up on the windows in the dining room. At one of our Village Oaks visits, all of the members participated in working on other things to set up on the tables. Students have encountered various and distinct attitudes from elders during this event. Throughout this visit at the nursing home, students had the opportunity to interact with the residents and hear what they wanted to say. One time, my mom and I experienced this, and we had a wonderful conversation. The lady we acquainted with was named Hellen, and she shared a story about her with us and it was incredibly motivational.