Not Quite Goodbye
Principal Nancy Emmons has been a large part of Horizon Honors and is now stepping down from her position, but she may not be gone as long as we think.
On Feb. 2, Principal Nancy Emmons sent out a letter to Horizon Honors staff, students, and families breaking the news that she is retiring after this school year. As a contributor to this school since the very beginning, Emmons has spent years working to make Horizon Honors a better place each and every day. And through those years, spending 16 of them as principal, she has made many memories and has seen the work of her students and staff pay off daily.
Emmons has always enjoyed working with people. "I think I always knew that I wanted to be a teacher," she explains, "I taught swimming lessons, I was a lifeguard when I was in high school, and I did teaching type things with my church and little kids." However, she did not intend to go into administration. She went through many positions in education: a high school teacher, a kindergarten teacher, and a counselor. Once she tried principaling, though, she never went back.
But her time at Horizon Honors all started when founder Larry Pieratt approached Emmons and asked her to look at a warehouse that he was thinking of turning into the school campus. "I remember thinking 'He's kinda crazy,'" she says. "Because how could you put a school in this warehouse?" While Pieratt didn't choose that warehouse, the campus he chose ended up being the place where Emmons strives to give students a better education day after day. Since then, she has been at many first days of school and graduations for countless students, and many of them have come back to see her. She told of a young man who had gotten into a lot of trouble during his time at Horizon Honors, and Emmons was the first one to really discipline him. He came back and thanked her for just that, saying that she changed his life. And those are her favorite kinds of accomplishments, where she sees students grow from their previous struggles.
A lot of those accomplishments are due to Horizon Honors' sense of community, which Emmons holds close to her. "There's such a support system," she tells us, which is why she is so confident in whoever her successor will be. "Everything's in place, so I think this will be a wonderful job for somebody to come into." While the school board is controlling the hiring of the new principal, not Emmons, she does have an idea of what she has in mind for what kind of person her replacement needs to be: "They need to be flexible and know how to be a servant leader. This person in this job needs to serve and learn from all these other amazing people and then figure out what they need and get it for them."
Emmons has done just that by getting a student focus group together back in December and is now trying to execute some of those ideas. That's one of the things that the administration will be doing for the rest of the year – getting all of the new additions to the school into place by next year. However, after her retirement, she plans on spending time with her grandchildren. One of which is two-years-old and the other will be born sometime soon. But she doesn't want to be rid of Horizon Honors forever. Emmons may want to go back to counseling, even if it is just part time. All she wants is to be able to balance work life and family life. So, this definitely isn't the end of Emmons' time at Horizon Honors, seeing as she does have family at this school and wants to continue making even more memories with the amazing staff and students.
Leave a Comment
About the Writer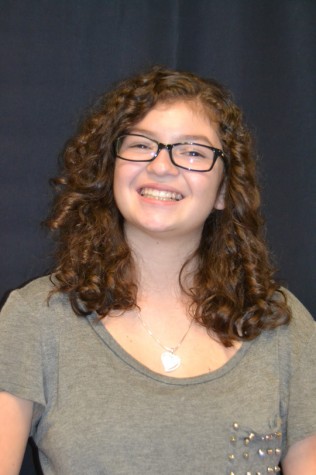 Lauren Bander, Columnist
After her first year of Journalism, Lauren Bander is excited to be back for another, this time in Journalism 3-4 and the 8th grade. This being her third year at Horizon Honors, Lauren is a member of NJHS and Middle School Student Council and looks forward to putting more time into charity work. She loves the Horizon Honors Drama department and hopes to continue performing with them after discovering being a part of the production team was so much fun.
Also an avid reader and writer, Lauren takes Journalism to expand her knowledge on the world of nonfiction and news writing. She writes to share her opinions and creativity with people other than just herself and close friends. But she hopes to someday share her writing with the world through books as a published author. When not writing, she doesn't mind having some downtime to watch shows like Doctor Who on Netflix or reading and fangirling over her favorite books. She also loves her two cats and spends time trying to get them to sit on her when she wants them to, which rarely happens because they have minds of their own.