Horizon Sun Leaders Part of Elite Group to Attend ASU's Cronkite Summer Institute
Zach Asato, Natori Cruz, & Kelleigh Hogan will represent the Horizon Honors Journalism Program at ASU, learning new and innovative journalistic skills from some of the industry's leading professionals.
The Horizon Sun is delighted to announce that two rising seniors and one rising junior have been selected to attend the Walter Cronkite School of Journalism and Mass Communication at ASU's Summer Journalism Institute. Juniors Zach Asato and Natori Cruz and sophomore Kelleigh Hogan (as an alternate) will represent the Horizon Honors Journalism department at ASU's Downtown campus for two, fully-funded weeks during the summer of 2015. This is the third year that The Sun has been represented at SJI, with former EIC Anja Asato attending in 2013 and current EIC Alexa Geidel attending in 2014. This year, Zach Asato is the Head of Photo, Cruz is the Managing Editor, and Hogan is the Editor of Sports and Student Life.  The three of them will be in the elite group of 14 students learning about Print and Digital Journalism at SJI. Their time at SJI will be spent alongside the prestigious staff and industry connections of Cronkite in addition to all of the resources the nation's largest university has to offer. Wish the aspiring journalists luck this summer at SJI as they prepare to take The Horizon Sun to the next level!
View Comments (1)
About the Writer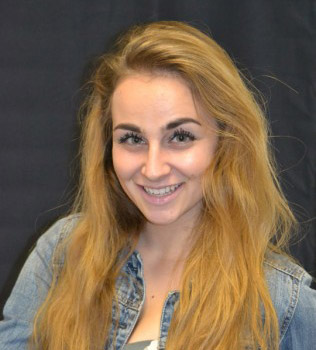 Alexa Geidel, Editor-In-Chief
Alexa Geidel is a senior attending her fourteenth year at Horizon Honors. Since Pre-K, Alexa has been a leader and example student in the Horizon Honors community. Her first semester last year in Journalism was inspired by her essay "You Don't Look Mexican". She wrote the essay for an online English 101 class at South Mountain Community College. The Horizon Sun, The South Mountain Review, and The Ahwatukee Foothills News published it as a guest contribution, gathering attention from around the country. Her work has been professionally reviewed and edited by a writer for ABC and The Huffington Post. Writing is a passion of Alexa's to say the least, and beginning to shape the path on which she will continue the rest of her life.

In addition to writing, Alexa finds her niche in the world of the performing arts. She has studied piano for eight years, sang in All-State choirs and performed in The Nutcracker Ballet. She is a member of the Dance Studio 111 Performance Company Team and the Artistic Director's Assistant for the Ahwatukee Foothill's Nutcracker Ballet. She volunteers at her studio teaching young ballerinas. She is president of the ACED club at Horizon Honors. Alexa is in the process of applying to universities across the country for next year.