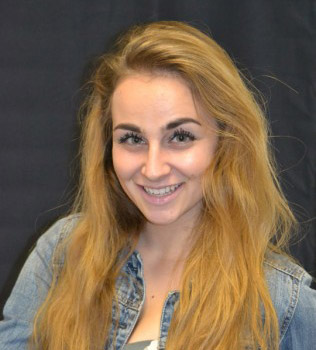 Alexa Geidel is a senior attending her fourteenth year at Horizon Honors. Since Pre-K, Alexa has been a leader and example student in the Horizon Honors community. Her first semester last year in Journalism was inspired by her essay "You Don't Look Mexican". She wrote the essay for an online English 101 class at South Mountain Community College.
The Horizon Sun, The South Mountain Review,
and
The Ahwatukee Foothills News
published it as a guest contribution, gathering attention from around the country. Her work has been professionally reviewed and edited by a writer for
ABC
and
The Huffington Post
. Writing is a passion of Alexa's to say the least, and beginning to shape the path on which she will continue the rest of her life.
In addition to writing, Alexa finds her niche in the world of the performing arts. She has studied piano for eight years, sang in All-State choirs and performed in
The Nutcracker Ballet
. She is a member of the Dance Studio 111 Performance Company Team and the Artistic Director's Assistant for the Ahwatukee Foothill's
Nutcracker Ballet.
She volunteers at her studio teaching young ballerinas. She is president of the ACED club at Horizon Honors. Alexa is in the process of applying to universities across the country for next year.
Alexa Geidel, Editor-In-Chief
Apr 10, 2015

Sabella Emerges in World of Photo

(Story)

Apr 08, 2015

Horizon Sun Leaders Part of Elite Group to Attend ASU's Cronkite Summer Institute

(Story)

Jan 19, 2015

Golden Examples From The Golden Globes

(Story)

Jan 04, 2015

Best In Beauty: 2014

(Story)

Nov 04, 2014

Word of Mouth: "People Keep Talking" Album Review

(Story)

Oct 21, 2014

"Faking It" Just Isn't Making It

(Story)

Aug 30, 2014
Aug 10, 2014

Five Secrets To Four-Eyed Beauty

(Story)

Aug 03, 2014

The Beginning Of The End Of The Beginning

(Story)

Jul 26, 2014
May 28, 2014

Cantabile Seniors Sing Their Goodbyes

(Story)

May 19, 2014

Beyond The Last Milestone: Finishing 2014 On A High Note

(Story)

May 13, 2014
May 05, 2014

New Trip, New York

(Story)

Apr 29, 2014
Apr 25, 2014

To Splurge Or Not To Splurge

(Story/Media)

Apr 14, 2014

It's Raining On Prom Night

(Story/Media)

Apr 07, 2014

Get The Most Out Of Your College Tours

(Story)

Mar 17, 2014

Back To The Future

(Story/Media)

Mar 02, 2014

Inside The Performing Arts Exhibition

(Story)

Feb 24, 2014

Make Your Spectacles A Spectacle

(Story/Media)

Feb 14, 2014

It's Raining Compliments

(Story/Media)

Feb 09, 2014

Catch Up With a Young Choreographer

(Story/Media)

Jan 30, 2014

The Anatomy of the Perfect Homecoming Outfit

(Story/Media)

Jan 30, 2014

People Help People

(Story)

Oct 31, 2013

Dia De Los Muertos: My Journey in Mourning

(Story)