Freak Out!
Horizon Honors is putting on a "freaky" play this semester. Here's what you need to know about our show, "Freaky Friday."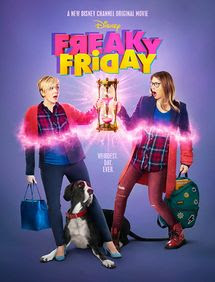 Horizon Honors Performing Arts is bringing new life to a timeless classic, "Freaky Friday." This play has gone through many mediums, and now we will be able to see it's musical version, "Freaky Friday: the Musical." It has gone from page, to screen, and is now to stage. Here is everything you need to know about this musical and its emergence.
According to Fantastic Fiction, "Freaky Friday" is based off of a 1972 novel of the same name, written by Mary Rodgers. Harper Collins Publishers states that the book is about a girl named Annabel who wishes she has the seemingly care-free life of her mother. Then, she wakes up one strange morning to find herself in her mother's shoes, soon to discover that being an adult isn't as fun as she thinks. "Freaky Friday" has won many awards, including the "Christopher," "ALA Notable Children's Book" and the "Library of Congress Children's Books" awards.
In 2003, Disney published the "Freaky Friday" movie, according to Rotten Tomatoes. While the plot stayed the same, the film brought new life to a kid's novel nearly 30 years old. Then, according to Music Theatre International, Disney Theatrical Productions developed a musical adaptation of "Freaky Friday." The musical was featured with a book companion written by Bridget Carpenter. "Freaky Friday: the Musical" had music written by Tom Kitt and lyrics written by Brian Yorkley. And now, Horizon Honors is taking the musical to our stage.
The Horizon Honors E-Blast (January 10) states that auditions for the show took place during the afternoons of Jan. 13, 14, and 15. The cast and crew lists will be posted quickly after the auditions, and Mr. Garrett will announce show dates soon.
In all of its forms, "Freaky Friday" has become a favorite for multiple generations. Our performing arts programs have clearly been working hard to deliver this amazing musical to Horizon Honors, and we will assuredly enjoy this play once it finds its way to our stage.