Trick-or-Tree: Candy Corn Decor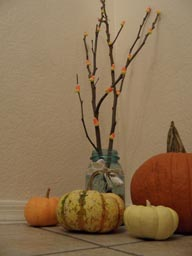 Now that fall is in full swing, and Thanksgiving is approaching, it is a perfect time to decorate your home for the season.  This candy corn tree is a quick and easy craft that will really bring the beauty of fall into your home.
Supplies:
-clean, empty jar
-bag of candy corn
-decorative fall ribbons
-hot glue
-small tree branch
-enough dried corn to fill your jar mostly full
Steps:
1. Fill your jar three quarters full with the dried corn.
2. Use ribbons to decorate the outside of the jar.  You can get creative with bows, or layering the ribbons. Glue the ribbons into place.
3. Trim down your branch to the size you want.
4. Now, begin hot gluing pieces of candy corn to the branch.
5. Place the branch inside the jar, and enjoy your candy corn tree.
You can make smaller or larger versions of this tree. Smaller ones would be good for your kitchen or coffee table, while larger versions would be ideal for your patio or front doorstep. This fun craft can last for years, and be displayed during fall or any time of the year.