St. Patrick's Day Family Treat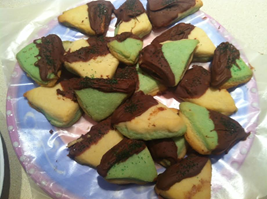 It's about time for the Irish season to come around, and families are searching for delicious sweets to make together; here is just the one! Grab a pot of ingredients and make these mouthwatering shamrock cookies with your family.
SHAMROCK COOKIES
Start to Finish: 2 hours and 45 minutes
Servings: 42 cookies
Ingredients:
1 cup butter, softened
1 cup granulated sugar
1 teaspoon baking powder
¼ teaspoon salt
1 egg
1 teaspoon vanilla
2 ¼ cups all-purpose flour
½ teaspoon mint/peppermint extract
green food coloring
a little over a ½ cup of milk chocolate chips
green sprinkles (optional)
Step 1:  In a large mixing bowl, beat butter with an electric mixer on medium to high speed for 30 seconds. Then, add granulated sugar, baking powder, and salt. Beat until combined, scraping sides of bowl every now and then. Beat in egg and vanilla until combined. Add in 1¼ cup of flour and beat until combined. Using a wooden spoon, stir in remaining cup of flour.
Step 2:  Divide dough in half.  Leave one portion plain. Add 5 to 6 drops of food coloring and mint/peppermint extract to one bowl. Then, mix or stir dough until the color is light green. Cover both bowls and chill in fridge for about 1 hour or until dough is easy to handle.
Step 3:  Preheat oven to 375°F. Spread flour on a cutting board, then form triangles with dough. Place some of the green and plain dough on opposite sides of each other on the cutting board so they do not get mixed up. Use your hands or a rolling pin to smoosh both of the doughs. At least once during the process, place the dough on flour to make it easier. Then, place the plain dough on top of the green dough. Use a butter knife or scraper to cut out small triangles. Repeat with remaining dough portions.
Step 4:  Place triangles 1 inch apart from each other on an ungreased cookie sheet. Bake for 8 to 9 minutes or until edges are firm and bottoms are light brown. Transfer cookies to a wire rack and let cool.
Step 5:  To prepare chocolate coating, pour the chocolate chips into a microwave safe bowl. Microwave for 1 minute. Dip half of each cookie into the melted chocolate. Make sure you allow any excess drip back into bowl. Place cookies on plates/trays lined with waxed paper. If you would like, you can put sprinkles on the dipped portions of the cookies. Chill in fridge the chocolate hardens. Enjoy these cookies with your family!
Other Ideas for Cookies:
-Put sprinkles on the light green dough during step 3.
– With the leftover portions of dough, you can mix them and repeat step 3, but without green on top and plain on bottom or visa versa.
Leave a Comment
About the Writer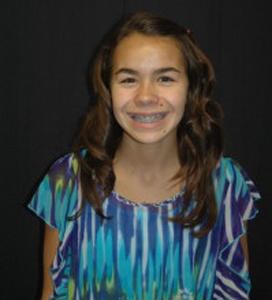 Maggie Kenzler, Columnist
Maggie Kenzler came to Horizon Honors for her sixth grade year.  She chose choir as her specials class, and enjoyed it a lot.  Her first year at Horizon Honors was great, and she made very nice friends.  Maggie was also in writing club, which was a great experience.  Later, in seventh grade, Kenzler won a writing contest for a youth church event.  She was in Dolce Voce choir for her first year in middle school and made it into in Bella Voce for her eighth grade year.  Also, in her eighth grade year, she decided to take journalism, because she loves to write.  Lastly, Maggie enjoys learning new and interesting things at Horizon Honors.

Aside from school, Maggie Kenzler takes part in many fun activities and sports.  She attends Wednesday church nights for her youth group, which is an encouraging night in her busy week.  She has been ice skating for about seven years, and loves it so much.  Maggie also plays volley ball for the Horizon Honors middle school team and a club team named Club One.  Kenzler has three brothers, two older and one younger.  Her family is very special to her and she loves them very much.  She enjoys playing with her dog, Ellie, swimming and playing board games with her family.  She and her family enjoy serving at Feed My Starving Children, which is a place where people help package food for poor children in various countries.  Overall, Maggie enjoys new experiences that come up in her life.