A Sweet Spring Treat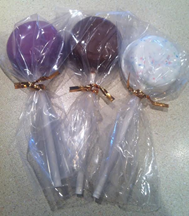 Spring is a splendid season to make delightful sweets with your family, relatives, and friends. These delectable homemade chocolate pops are quick and easy to make.
CHOCOLATE POPS
Start to Finish: 45 minutes
Servings: 10 pops
Items Needed: All of these items can be found at Jo-Ann's and other craft stores.
3 packages of chocolate melts (this is for a variety of chocolates to use)
1 lollipop mold sheet
10 small plastic candy bags. ( 5" x 3 ½")
10 lollipop sticks
5 twist ties
Sprinkles (optional)
Step 1: Use a paper towel to place your supplies on. This is to prevent any spills and to wipe messy hands. Open one of the three packages and pour the chocolate melts into a microwave-safe bowl. Do not pour all of the melts in, only 15 – 20. You will be making at the most four pops with this particular chocolate. Microwave for 30 – 45 seconds. Then, mix with a spoon until completely smooth and creamy.
Step 2: Next, fill the molds to the top without spilling over. Spread the spoon around on top of it to level it (you can create a swirl on top if you would like). Slide a lollipop stick into the chocolate and twist it around in opposite directions so that it blends in with the chocolate.
Step 3: Wash the bowl and spoon to use again. Repeat steps 1 – 2 with the other two chocolate packages. Make sure that when you are finished filling in all the molds with the different chocolates that there are exactly 10 pops. Refrigerate them for about 15 minutes.
Step 4: Take them out of the fridge and pop each one of them out of the molds using your hands. To prepare them as gifts, put all of them in their own separate bag. Cut each twist tie in half and then twist each around the bags. Enjoy giving out your spring sweets!
Notice: If if the package of chocolate melts is formed together into a block, it is fine.While still in the package, just break it up into pieces with your hands. Then, continue by pouring into the bowl, melting in microwave, and mixing.
Other Ideas for Chocolate Pops:
– Pour sprinkles into mold before pouring chocolate
– Pour sprinkles on top of the chocolate after it is filled in the mold
– Try adding some food coloring to the white chocolate. (You can do this to the light colors – white, yellow, etc. There are several white chocolate melts that you can purchase; they come in a variety of colors.)