Never Walk Away from Guacamole
This recipe will have you coming back for more, time after time and chip after chip.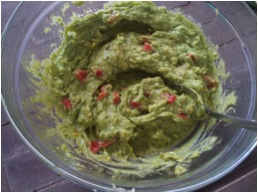 It's the perfect recipe: it's fast, it's easy, and it is so delicious.  This guacamole introduces a wonderfully salty and citrusy flavor that perfectly complements tacos, burritos, and corn chips.  Just remember: with guacamole, there is no such thing as a small portion.
Start to Finish: About 10 minutes
Servings: One medium bowl
Ingredients:
– 2 medium, ripe avocados
– ½ of a small onion, finely chopped
– 1 tablespoon lemon or lime juice
– 1 large clove of garlic, minced
– ¼ teaspoon salt
– ¼ teaspoon pepper
– 1 medium tomato, washed and diced
Halve the avocados lengthwise.  Use a spoon to scoop the avocado and pit out of the skin.  Set the pits aside.  Place avocados in medium bowl and mash.  Add lemon or lime juice, garlic, salt, pepper, and onion.  Stir thoroughly and mix in tomato.
And there you have it!  One delectable bowl of my favorite taco night topping that you're sure to love just as much.