A Fundraising Tradition
Different fundraisers continue as a tradition, even though many are unneeded and impractical.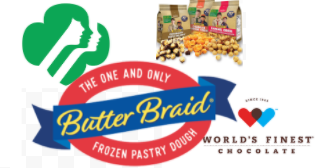 Kalyn McLeod, Editor of Campus Life and Sports
November 18, 2020
Recently I sold Butter Braids, overpriced fruit-filled pastries, for gymnastics. Gymnasts are encouraged to sell as many as possible as a fundraiser. But my gym is in great condition, and certainly has enough money to pay for everything, even having extra money for parties and events, too. So why go through the hassle of forcing little girls to sell things, especially something as seemingly useless as frozen pastries?
Many other organizations also sell tasty treats, the most famous being the Girl Scouts of America, who are known for their cookies. Such a large organization does not need cookie sales to survive. Many argue that it is important for children to learn how to make sales at a young age. It teaches kids important social skills, like eye contact and clear communication, and helps them think through the sales process, according to the Butter Braids website. While these are important skills for children and adolescents to develop, going to a neighbors house and being cute isn't the best way to develop them. These types of fundraisers also don't really teach, and give a wrong perspective of sales. They don't acknowledge taxes, profits, expenses, or other business concepts that are really the important things to know.  So what is the purpose of doing these pointless fundraisers?
One of the main causes of continuing these campaigns is for traditions sake. Traditions bring a sense of meaning and belonging into our lives, as explained by Red Tricycle. This is why it is hard to simply stop an ongoing tradition. One great example of this are the Girl Scouts. According to Girl Scouts, they have been selling cookies since 1917. Many organizations since then have had their own special selling tradition. It is something that the public looks forward to, and fosters a sense of culture and community among the organizations' members.
While many traditions, including some fundraisers, seem outgrown and unnecessary, it is important to remember that they are more than what is seen on the surface. They have been embedded into all our lives, creating a sense of brotherhood and something we can all relate to. Traditions provide meaning into what we are doing, and will never disappear. So the next time a little kid is knocking on your door trying to sell you cookies or pastries, consider buying one: if nothing else, you're keeping tradition alive.