People Who Became Famous for No Reason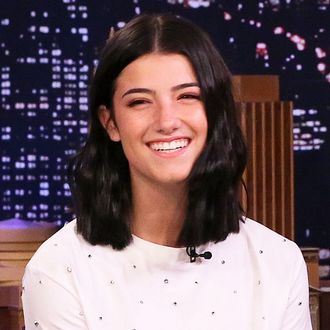 Social media platforms have allowed ordinary people to become famous overnight. One viral video could launch someone's entire career. Many of these one-hit-sensations are often referred to as "influencers," but several of these social media celebrities became famous for virtually no reason. They have no special talent, and yet have millions of followers and likes. Here are some of the most popular people on the internet, who are famous for no reason.
Bella Poarch
I personally enjoy watching Bella Poarch and her videos, but this TikTok celebrity with over 40 million followers isn't that special. According to This Interests Me, her follower count skyrocketed after her "m to the b" video went viral, and is currently the most liked video on TikTok. While her lip syncing and the faces she makes can be mesmerizing, I wouldn't consider it a talent. Most people can do that, so I don't think Poarch should be as popular as she is. 
The Kardashians
The Kardashian family was able to build a fortune through social networking and self promotions. Their reality TV show "Keeping Up With the Kardashians" (KUWTK), boosted their popularity in 2007, and gained them international media attention. People binge watch all 19 seasons of KUWTK, but for what reason? No one in the Kardashian family has a noticeable above normal talent. According to BBC, they use their fame to create beauty and cosmetic lines that make them millions.  
Charli D'Amelio
Similarly to Poarch, Charli gained fame on TikTok after a viral video. Bugle 24 explains that after its upload, the dance "Renegade" became incredibly popular, just like D'Amelio. D'Amelio is a gifted dancer, but she became famous for a silly little dance that millions can do, and the fact that over 100 million people follow her is just insane to me. 
Chase Huson
Chase Hudson had been creating videos long before the age of TikTok. He had many creative and entertaining videos, but they just weren't very special. His popularity increased with the rise of TikTok, and was one of the creators of the Hype House, according to TVOvermind. I can understand why people enjoy his content, I just don't believe he should be as popular as he is, especially considering he doesn't really have a talent. The key reason as to Hudson's success is perhaps his status on the app, as he had been on it since its Musical.ly days.
It's hard to fathom how lucky certain celebrities got just from social media. Charli D'Amelio was just a regular girl before TikTok, and the Kardashians were just another wealthy family. So, if they can become popular overnight for no reason, anything is possible. Reach for the stars.