Who Will Win Super Bowl LV?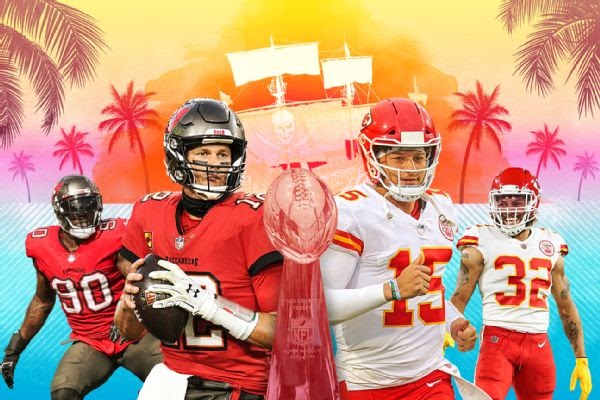 Super Bowl LV is just around the corner, taking place at Raymond James Stadium in Florida. For the first time in NFL history, one of the teams will be playing on their home turf. Most people don't realize that Super Bowl LV was originally supposed to be held in Los Angeles at the new SoFi Stadium until it fell behind on building. As per the NFL rules, any stadium looking to host a Super Bowl must be open for at least a year. Now let's get into the teams. The Tampa Bay Buccaneers will play against the previous champions, the Kansas City Chiefs.
The Kansas City Chiefs won Super Bowl LIV in 2020 becoming the next NFL Super Bowl champions to go to the Super Bowl two years in a row since the Patriots era in 2017- 2019. The Chiefs have appeared in the Super Bowl three times before, winning twice against the Minnesota Vikings in 1970 and the San Francisco 49ers in 2020. While the Buccaneers have only been to the Super Bowl once before, pulling out a win against the Oakland Raiders, Tom Brady is no stranger to the special event, having been the only player to ever have gone to the Super Bowl ten times prior to this year. Although the sixth seed Buccaneers have the magnificent Tom Brady on their side, the Chiefs are still favored as the team to beat.
If football isn't necessarily your favorite thing to watch, maybe the Puppy Bowl is the game for you! The Puppy Bowl is a charity event featuring puppies from shelters across the country. It's a chance for lots of our cuddly friends to battle it out for the chance to win. The puppies try to bring chew toys across the miniature field in order to score a touchdown for one of the teams, Ruff or Fluff. It even has a kitty half time and more special guests. For the past sixteen years the Puppy Bowl has helped puppies and kittens get adopted into loving homes. To find out more about Puppy Bowl XVI, visit Animal Planet (Related: don't get hungry while watching the Super Bowl or Puppy Bowl).