Delicious Homemade Bowtie Pasta
This pasta is super easy to make and tastes delicious. Homemade bowtie pasta is better than the store-bought kind and you will never need to buy it again. It is also perfect for impressing dinner guests.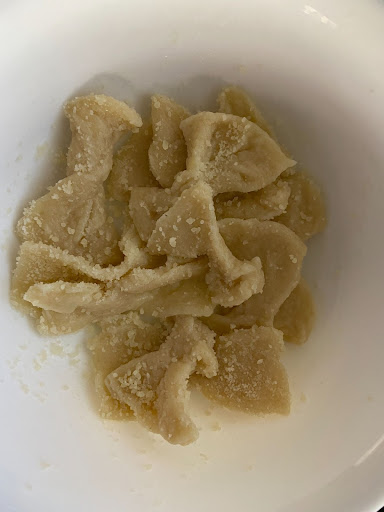 Ingredients:
1 cup all-purpose flour
2 eggs
Steps:
Form a mountain with your flour, and create a bowl shape in the middle.

 Crack your eggs into the flour bowl and mix with a fork until the dough is tough. Knead with your hands to form a ball. This will be ready when your dough is firm.

After you form your dough into a ball, sprinkle a little flour on the counter or cutting board. Roll your dough out until it is flat and wide.

Use a pizza cutter to cut the dough into strips about 1 inch by 1 ½  inch. Pinch each piece in the middle to make a bow tie shape.

Boil water in a medium-size pot. Once boiling, cook pasta until done, about 6 to 7 minutes. Drain water and add some butter. I love to add a little parmesan cheese on my pasta but any sauce will taste great as well.

Serve and enjoy!