Season Two of "Demon Slayer" Out After Years of Waiting
The "entertainment district" arc is the main part of the second season of the award-winning anime "Demon Slayer."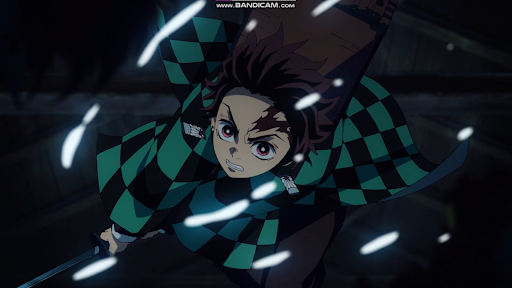 Tanjiro Kamado's whole family was murdered by an extremely dangerous and intelligent demon one night. The only survivor was his sister, Nezuko. Demon blood seeped into Nezuko's wounds, changing her into a demon. Tanjiro is filled with regret for not keeping a closer watch on his precious family. He sets out on a long journey with Nezuko, finding a cure to change her back to how she was before tragedy struck.
Tanjiro then joins the Demon Slayers. It's an organization focused on defeating blood-seeking demons. He befriends Inosuke and Zenitsu, fellow Demon Slayers with goals of their own. Since Tanjiro works amongst the Demon Slayers with much passion, he can one day defeat the demon boss that killed his family.
After the first season's abrupt end, a movie was released in early 2021; "Mugen Train". Rengoku, one of the high-ranked Hashira expert demon slayers, meets up with Tanjiro and his friends. After struggling to defeat the demon trying to mass murder an entire train of passengers, Rengoku meets an unruly end. The last 5 minutes of the movie concludes with the main characters crying over the sacrifice of their optimistic friend.
After season one and a despair-inducing movie, the roller coaster ride hasn't ended. Fans are in for another action-packed story arc. "Demon Slayer" specializes in bringing out the audience's emotions. Fans are on edge with every episode keeping the story interesting. "Demon Slayer" won the official Crunchyroll "Anime of the Year" Award in 2020.
The release schedule is every Sunday at 7:45 a.m, having started on Dec. 5. Episodes are weekly on Funimation, Crunchyroll, and Hulu. It's unsure whether it'll be added to other platforms in the future.
The additional part of the story is the "entertainment district" arc. It's expected to be about theaters, movies, or venues with powerful demons lurking nearby. From the moment the first episode starts, the connection between Rengoku's death and everyone's potent feelings is distinct. It's important not to skip the "Mugen Train" movie before starting the second season.
Fans can't wait to get more fighting action in the new season's story and its involvement with traditional theater arts. People will be excited to keep up with the series over the next few weeks.