The Streaming Wars
When searching for your music service of choice, there are many things to consider.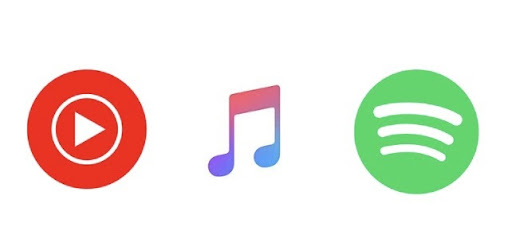 After the emergence of music streaming services came many options. Some of the most popular services, according to Digital Music News, include YouTube Music, Spotify, and Apple Music, among others. All of these services are good choices, but they each have their pros and cons.
Launched in 2008, Spotify was an early competitor to the streaming game. As mentioned by the BBC, Spotify formed intending to fight music piracy, a problem that was costing the industry a fortune. Price wise, Spotify offers a free, with ads option and a $9.99 per month option without ads or a limit on skips. Using Spotify is very easy-to-use thanks to its simple and user-friendly interface. Spotify should certainly be on your list.
Apple Music, released in 2015, was, according to The Guardian, created to compete with Spotify and other market leaders. As stated by CNET, Apple Music boasts a better audio resolution than Spotify, while having the same price per month. Unlike Spotify, Apple Music does not offer a free version, with only the DJ-curated Beats1 Radio available without paying. When looking for a music service, considering Apple Music will be in your best interests.
Another option is YouTube Music, Google's streaming service. Like Spotify, as mentioned in the Verge, YouTube Music offers a free version with ads and a $10 per month premium subscription. The service has an impressive Home Screen that competes with Spotify. YouTube Music also uses the music videos on YouTube to enhance the user experience. YouTube Music is a spectacular option.
These are just a few of the great music streaming services. It is always important to do your research before you decide on a service. It is also important to remember that the "best" service is different for everyone because each person has their own needs and lifestyle.