Teharu Revolving Sushi: More Than Just a Restaurant, an Experience
Teharu Revolving Sushi, is a low-priced restaurant that is good for all ages and a fun experience.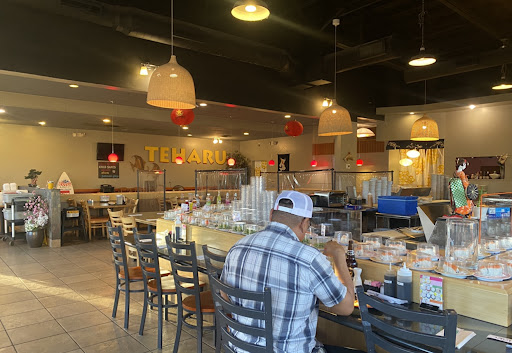 Teharu Revolving Sushi is a sit down restaurant where you can pick up sushi plates from the sushi bar as soon as you sit down. It is decently priced with many tasty options. Located in Tempe, Teharu has little to no wait to be seated, as well as friendly staff and good service. Sushi that comes from the revolving area ranges from two to three dollars per plate.
Although Teharu is a revolving sushi restaurant, they also have items to order regularly. The California roll is a fantastic roll for non-fish eaters and they have plenty of other non-fish related items such as spring rolls, potstickers, and seaweed salad. The spicy tuna roll is a wonderful roll for people who enjoy spicy foods and the crab roll is a delightful spiceless roll. The sesame seed dough, filled with red bean is a sweet treat. They offer many bottled drinks such as Arizona Tea, ramune, and coffee.
Teharu is open 11:00 a.m. to 9:00 p.m Tuesday through Thursday, 11:00 a.m. to 10:00 p.m. Sunday and Monday and 11:00 a.m. to 10:30 p.m. Friday and Saturday. On the left side of the door is a counter with a notebook on it; signing in with your name and number of guests will let servers know who needs to be seated and ensure your spot quickly. Teharu is a small family friendly restaurant with delicious sushi and I recommend it for anyone looking for a casual, enjoyable dinner.