Updates on the Russian Invasion of Ukraine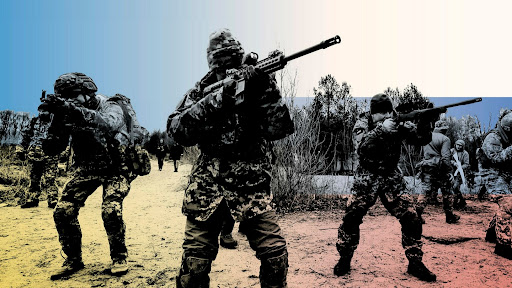 Update: March 2
CNN Business writes that Elon Musk, CEO of SpaceX, activated Starlink satellites to stay over Ukraine to give Ukrainians better internet connectivity and make it easier and safer for them to communicate. This is in an attempt to counteract the power outages Ukraine has been experiencing.
On Feb. 28, Kharkiv, Ukraine's second largest city, was bombed. NBC News states that there were at least 11 people killed and dozens of people were hospitalized. This was the most heavy shelling and street fighting since the invasion started. Also, a Russian military strike on a five-story dormitory occurred and two five-story residential buildings were shot down. The Ukrainian Government is sending three state emergency service units to the dormitory. The government is not sending any units to the two residential buildings because the shelling is ongoing where they are located. There were no victims at the dormitory. The residents of Kyiv and Kharkiv are still under heavy shelling while the Ukrainian army continues to defend their country as of March 1, says the Washington Post.
Along with declaring war on Russia, the hacking group "Anonymous," took down the Kremlin website and hacked Russian-backed TV channels to play Ukrainian music, says The Guardian. They have also claimed responsibility for many other cyber attacks against Russia. The targets of these attacks are Russian government websites.
The US has delivered hundreds of stinger missiles to Ukraine. Stinger missiles are used to shoot down aircraft. This is a part of the U.S.'s $350 million dollar lethal and non-lethal package for Ukraine.
Kherson, a southern city in Ukraine has fallen. It is the first key city to be taken by the Russian troops. Kherson is a very  strategically important country to have for Russia because it enables Russia to control more of Ukraine's southern coastline.
Russian and Ukrainian representatives had their first conversation since the Russian invasion on Feb. 24; officials met at the Ukraine-Belarus border to discuss possible resolutions. According to CBS News, Ukraine has requested a "ceasefire," but the meeting ended with no agreement; however, both sides have agreed to keep the lines of communication open.
The list of organizations taking action against Putin and his actions continues to grow. The International Olympic Committee recommended all Russian athletes be forbidden to compete in international competitions. The Metropolitan Opera has stopped working with artists who are affiliated with Putin. According to ESPN, FIFA and UEFA have confirmed that Russia will not be taking part in the World Cup. People states that many governors have called upon the people to stop buying Russian goods such as the "Russian Standard," a liquor sold in many restaurants and bars. President Biden has also announced that "we will join our allies in closing off American air space to all Russian flights."
On March 1, Biden made his State of the Union address, as found in The White House. He quickly touched on the Russia-Ukraine conflict. First Lady Jill Biden had Ukraine's ambassador to the United States as one of her guests. Many members of congress showed their support of Ukraine by wearing yellow and blue and holding Ukrainian flags. President Biden is taking action on sanctions. During the speech, he said, "We are cutting off Russia's largest banks from the international financial system. Preventing Russia's central bank from defending the Russian Ruble making Putin's $630 Billion "war fund" worthless." He continued, "We are choking off Russia's access to technology that will sap its economic strength and weaken its military for years to come." President Biden has once again made it clear that he condemns Putin's actions but will not go to war, as Ukraine is not a part of NATO.
Update: March 8
According to CNN, Russia bombed Ukraine's largest nuclear facility, Zaporizhzhiar power plant. Fortunately, US officials don't believe there to be any leakage of nuclear materials. Now that Russia has control over the power plant, the US is "deeply" disturbed about what Russia's intentions with the plant are. The U.S. embassy in Kyiv tweeted that, by attacking the power plant, the Russians committed a war crime. After the tweet, the U.S. State Department told all US embassies not to retweet it because they may not endorse the embassy's accusation. According to United States Ambassador to the United Nations Linda Thomas-Greenfield, the world "narrowly averted a nuclear catastrophe." She also said that "Nuclear facilities cannot become part of this conflict."
According to CNN,  Russia has proposed a new ceasefire on March 8, to start at 10 a.m. Moscow time (9 a.m. Ukraine time) on Wednesday, March 9. Russia believes that they are ready to provide evacuation corridors for civilians from Kyiv, Chernihiv, Sumy, Kharkiv and Mariupol, and others. In Russia's ceasefire guidelines, they asked for a constant line of communication with Ukraine in order to exchange information about the evacuation of civilians and foreigners in Ukraine.
According to a NATO representative, the Russian army is not expected to make any more advancements into Ukraine in the foreseeable future. They mentioned how Russia is "putting in everything they have and are still making very little progress," states CNN.
Because of Russia's anti-war protests, CNN says the director of the CIA has estimated that up to 14,000 Russians have been arrested. Seeing the protests and the fact that people are watching dead soldiers being taken back to be buried, it is clear that the Russian government is losing popularity with people.
The southern Ukrainian city of Mariupol has been, according to CNN, isolated by Russian troops. They are not in Mariupol whatsoever, but they do have it surrounded. Because of this, the inhabitants of the city have been cut off from power and water.
As stated by CNN, U.S. intelligence has estimated that between 2,000 and 4,000 Russian troops have been killed since Russia began its invasion 12 days ago, according to Defense Intelligence Agency (DIA) Director, Lt. Gen. Scott Berrier. The estimation is "based both on intelligence sources as well as open-source material."
Putin has been accused of war crimes because of his attack at the Zaporizhzhia nuclear power plant. On a phone call on Thursday, Putin told French President Emmanuel Macron that Russian forces are doing "everything possible to preserve the lives of civilians." As of Thursday, the United Nations have counted 331 civilians killed, says The Washington Post.  According to the BBC, the International Criminal Court will perform a full legal investigation into Putin, looking back at accused war crimes in 2013 while still focusing on war crimes he is being accused of committing today.
Russia's economy has tanked. According to CNN, the United Kingdom has imposed sanctions on Russia's central bank. The UK has also frozen over 478 billion dollars' worth of assets and claims to continue weakening Russia's economy.
The list of companies pausing operations in Russia continues to grow. According to the BBC, Visa, Mastercard and American Express cards will no longer work at ATMs or stores in Russia and clients in Russia can no longer make international payments online. Paypal has also recently shut down its operations in Russia. CNN states that, McDonalds is also shutting down locations in Russia because 84% of McDonald's restaurants in Russia are run by the company. According to the BBC, Apple, Ikea, Rolls Royce, Netflix, Burberry, H&M and Jaguar Land rovers have all paused their businesses in Russia.
Ukraine claims that another second Russian general has been killed, this time Vitaly Gerasimov. According to The Guardian, if this is true, this would be the second Russian general lost in a week. According to CNN, tThe United States cannot yet confirm if general Vitaly Gerasimov is dead.
Update: March 10
A maternity and children's hospital in Mariupol was bombed by Russian forces on Wednesday, March 9, according to CNN. Because of the attack, 17 people were injured and there was a lot of damage done to the facility. The Mariupol City Council said that, "The building of the medical facility where the children were treated recently is completely destroyed."
According to CNN, the UN estimates that 549 civilians have been killed since the invasion began. Also 957 people were injured, but the number could be "considerably" larger. CBS states that there have been 5,000 to 6,000 Russian troops killed and 2,000 to 4,000 Ukrainian troops have been killed.
Update: March 28
Since Russia started the invasion of Ukraine, many of Ukraine's cultural landmarks have been destroyed. One of these includes Mariopol's Arkhip Kuindzhi Art Museum, says NBC. According to the Hague Convention of 1954, targeting cultural landmarks is a war crime.The whole city of Mariupol has been devastated by the constant pressure and violence from Russia. From an aerial picture of the city, the rubble is overwhelming, says CNN.
Because of supply issues and aggressive Ukrainian resistance, as of March 28, Russia has not made any progress in the last 24 hours, says NBC. This is also because of the decrease in morale of the Russian troops, halting the invasion.
CNN reports that, according to a U.S. official, Putin's advisors are giving him false information about Russia's military performance in Ukraine, and about the country's decreasing economic status. The advisors are choosing to feed the President misinformation because they are scared about what he will do when they find out. This is as far as the U.S. official was able to say, as they did not want to go into any further detail.
According to CNN, Russia has handed the control of the Chernobyl power plant back to Ukraine. The plant and the territories around it were seized by the Russian forces in early February. The director of the plant said that the Russian occupiers were exposed to a lot of radiation but the amount is impossible to know. Also, Ukrainian forces recaptured the town of Bucha which is a Ukrainian town near Kyiv.
Update: April 15
According to CNN, President Biden called the war in Ukraine a genocide. However, the president also mentioned how the government and its lawyers are working to decide "whether or not it qualifies" as a true genocide. According to the Geneva Convention, genocide is defined as "acts committed with intent to destroy, in whole or in part, a national, ethnic, racial or religious group."
CNN writes that it is possible that Russia is preparing for another attack to conquer Donbas. French military spokesperson, Col. Pascal Lanni says, "Within the next few days, 10 days or so maybe, Russia could relaunch its efforts with a large-scale offensive in the east and south to conquer the Donetsk and Luhansk regions … or even to push as far as the Dnipro [river] if its capacities allow it,"
According to CNN, in Kharkiv, the civilian death toll has risen to ten. One of the victims was a seven month old baby. The deaths are a result of the heavy shelling from Russian forces. 35 people were injured as well. There were also several residential buildings either destroyed or severely damaged.
According to NBC, U.S. President Biden came back from his three-day trip to Europe Sunday, March 27. Biden met with Belgian officials and the Polish president. While visiting Europe, Biden made remarks that were unscripted. During a speech in Poland, Biden said, "For God's sake, this man cannot remain in power." According to The Washington Post, this sparked confusion because it seemed to support regime change; the White House claimed Biden meant Putin should not use power in the region or his neighbors. NBC also states, Biden described Putin with "He's a butcher" when asked by a reporter on Saturday, March 26. During talks in Europe, it seemed as if Biden wanted to send U.S. troops to defend Ukraine, but White House officials shot down that rumor by saying there has been no position change on sending troops to Ukraine.
Update: April 21
Ukraine, according to CNN, has fought off many Russian attempts to advance into the city of Donbas. However, the shelling is not stopping; in fact, it is still increasing. The UK Ministry of Defense tweeted that, "Russia's ability to progress continues to be impacted by the environmental, logistical and technical challenges…"
Ukraine has received additional aircrafts to increase their fleet from other states (the US has not contributed any). They also received parts to repair and get damaged planes in the air, says CNN.
Ukraine has successfully taken 79 people out of the city of Mariupol, and evacuated them to Zaporizhzhya, according to CNN. This was the first time since Russian forces occupied the surrounding area around Mariupol that Ukraine managed to evacuate local residents and get them out to safety. The evacuation is ongoing, however it is going "very slowly."
CNN says, Ukraine's military released an intercepted Russian communication in which Russian soldiers were ordered to kill Ukrainian prisoners of war. This is a war crime and a violation of international law. The recording says, "What can I tell you … [expletive], [unintelligible] – you keep the most senior among them, and let the rest go forever. Let them go forever… so that no one will ever see them again, including relatives."
According to CNN, Russia put out their "stop list." Kamala Harris, Mark Zuckerburg and 29 other popular American individuals including prominent businessmen and government officials were among those on it. The Russian foreign ministry wrote that this is "in response to the ever-expanding anti-Russian sanctions."
Update: April 27
CNN says Luhansk, an eastern Ukrainian region, has reported another day of tough fighting. Both the Russians and the Ukrainians reported this development. The head of the Luhansk region military, Serhiy Hayday, has said "the Russians 'keep razing everything to the ground.'" A small yet dense village in Luhansk called Novotoshkivka has been left in ruins. The fighting in the village has reduced it to ashes. Another town in this region, Severodonetsk, came under attack and has been under missile fire. In the fighting, a hospital was bombed and was left with "significant" damage. Hayday said that "The Russians knew that the hospital was not vacant, and that there were patients with different conditions being treated by doctors, even that didn't stop them. In fact, the Orcs wanted to kill off the wounded and those who (were) trying to help these locals survive, their doctors."
According to CNN, on April 27, Ukrainian President Volodymyr Zelensky gave his nightly address via video. He talked about plans for postwar and said he wants to provide housing for armed forces, first responders and police officers. He also said he looks forward to rebuilding everything destroyed during Russian attacks. At the end of his video he said, "The stronger our resistance now, the more rejection the occupiers will see, the sooner normal life will return to our land."
Update: May 23rd
The Biden administration has announced another $100 million security package that would help provide radars and artillery. According to CNN, that would bring the total amount of U.S. military aid to Ukraine up to $3.9 billion. Along with that, the United States Senate just approved a $40 billion dollar aid package. A total of 11 senators opposed. The bill will now go to the White House for a signature from President Biden.
Officials say Biden will sign the bill into law while Biden is on a diplomatic trip to South Korea. He started the trip on May 19, says CNN.
Update: May 25th
Since the war in Ukraine started in February, there have been many events that have impacted the course of the invasion. For example, early in the conflict, Ukraine's second largest city, Kharkiv, was bombed. Since then, at least 250 civilians have died in Kharkiv alone. After about 10 days of constant fighting, Ukrainian and Russian officials met to discuss possible resolutions. Then, a week or so later, Russia allowed a ceasefire and agreed to provide evacuation corridors for civilians. After Russia bombed a children's hospital in Ukraine, people started to accuse Russia of committing war crimes. Despite the strong Ukrainian defense, Russia continues to shell urban areas. President Zelensky hopes to provide housing for armed forces and is looking into the future for how Ukraine will rebuild post-war. Although this war is ongoing, this article will no longer be updated after May 25.