Almás Pite, Hungarian Apple Cake
This Hungarian cake has a lot of flavor and is super tasty. This apple cake is fun to make and my great grandma made it for us all the time.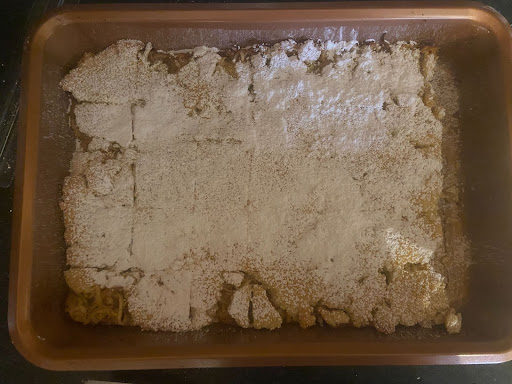 Ingredients:
Dough:
2 ½ cup all-purpose flour

1 stick butter

½ cup powdered sugar

1 tsp. baking powder

½ tsp. vanilla extract

2 eggs

1 tbsp. sour cream

Pinch of salt

1 tsp. lemon zest
Filling:
6 apples

½ cup powdered sugar

1 tsp. ground cinnamon

1 tbsp. lemon juice

1 egg
Instructions:
Mix flour and softened butter by hand in a large bowl. This will have a crumbly texture.

Add the egg, powdered sugar, salt, vanilla extract, baking powder, sour cream, and lemon zest. Mix. Once at a thick consistency, knead until combined.

Split the dough into two parts. Place in separate bowls and cover with plastic wrap. Let the dough set for 20 minutes.

While dough is setting, peel, core, and shred the apples and add them into a bowl. Add sugar, cinnamon, and lemon juice into the same bowl. Mix until combined and drain the leftover juice.

Preheat oven to 355

degrees. Butter your baking pan.

After 20 minutes of setting, roll out the dough to the size of your pan. Lay in the first ball of dough in the pan.

On top of the first layer of dough, spread the apple filling. Roll out the other half of the dough and lay it on top. Make sure that the filling is fully covered by the second layer of dough.

Poke the dough with a fork in multiple places. Brush the egg wash on top.

Put the cake in the oven and bake for 30 minutes. The top should be a nice golden brown when done.

Let the cake cool and then cut it into squares. Sprinkle powdered sugar on top and enjoy.