Tove Jansson, the Freedom Fighter
Throughout her life, Jansson worked to create peace and acceptance.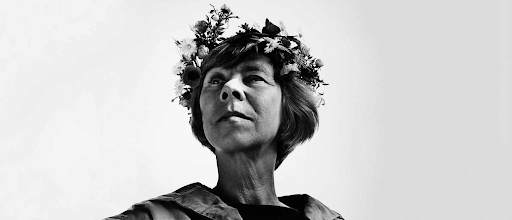 Tove Jansson was born in Helsinki, Finland on Aug. 9, 1914, and lived to June 27, 2001. While Jansson is most known for her creation of the Moomins, she accomplished much more. Jansson was a fierce anti-fascist who stood with her beliefs throughout World War II, despite threats of prosecution from the Finnish government. Aeon talks about the mocking cartoons she made depicting world leaders of the time, which were published in the leftist magazine "Garm." In an age of hate, Jansson strived to be a beacon of hope, however small.
The Moomins themselves, round white creatures with snouts and often accompanied by a range of friends, may seem like an unimportant children's cartoon, but they were a way that Jansson fought back against the oppressive tyranny and violence she observed all around her. The Moomins conveyed a philosophy of life that preached peace, self acceptance, and freedom. In doing this, Jansson was able to slowly but surely attempt to reassure future generations that they didn't have to live in a world of fear, that being themselves was important, and that they shouldn't have to change their identity for anyone. In a world slowly recovering from the pain and hatred of Nazism, Jansson worked to restore hope and love to the world.
Another lesser-known aspect of Tove Jansson's life was her queerness. She is quoted saying "I always fell in love with a person. Sometimes that person was a man, and sometimes it was a woman. But the important thing was that I fell in love with that person." According to Making Queer History's article on Tove Jansson, many of her real-life romantic partners appear as Moomin characters, such as Too-Ticky, who was directly inspired by her long-time partner, Tuulikki Pietilä. Another interesting example of this appears as her characters Thingumy and Bob, who were based off of Jansson and her lover Vivica Bandler, who was married. These two characters are often seen holding hands, almost inseparable. They also speak in their own language, which is a direct parallel to the letters Jansson and Bandler sent to each other, which could be interpreted as a "secret language" between two women sharing a private love.
Having characters that represented the love she felt in her life furthered the beauty of her fictional world. Throughout her life, Jansson surrounded herself with community, friends, love, and her own self acceptance. She was very passionate about being who she was, and always encouraged others to do the same. Her niece, Sophia Jansson, says the following about her aunt: "Her work says: 'This is me. This is who I am. Take it or leave it.'"