California City Pass: Worth It?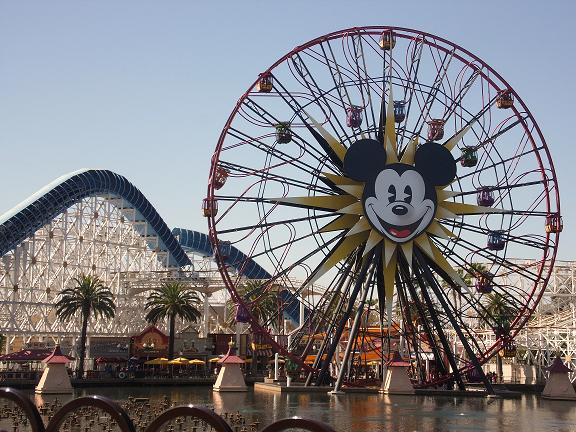 Over fall break, I was able to escape the confines of Arizona to the windy beaches of California.  We celebrated my sister's sixteenth birthday in the form of a city pass, which enabled trips to Disneyland, California Adventure, Universal Studios, and Seaworld.
The journey included one trip to the La Jolla beach, where we were able to witness sea lions. . . napping.  But it was a fun experience, due to the beautiful weather and one friendly seagull we had dubbed Chip Chirp (he chirped for chips, hence the name).
The Disneyland parks experience was exceptional, and I don't think I have ever laughed more in my entire life.  The new Carsland was such an interesting place, and the Radiator Springs Racers ride became a favorite of mine.  I'll let you in on a little secret.  The fastpasses for the ride were advertised during the day as unavailable.  But, if you were there when the California Adventure park opened, you could get in a long line for fastpasses that were well worth the wait.
Universal Studios was the most informative theme park I have ever been to (although I haven't been to many).  There you could go to shows about movie-making secrets, take the bus tour through the sets of "How the Grinch Stole Christmas," "Alfred Hitchcock's Psycho," "War of the Worlds," and others.  The tour also included a King Kong 3D "ride," and a quick experience of Jaws.  The 3D Transformers ride was the most advanced I have ever been on, and your drive and caretaker, Evac, was so well-developed.  Peter Cullen excelled at his role as Optimus Prime, and the fact that they added Ravage in there made me want to cry tears of joy.
Seaworld was filled with animals and wet rides.  We saw dolphins, orcas, and all kinds of other sea-dwellers.  The shows were packed with all sorts of tricks and music.  The pet show and others were simply exceptional, and it was well worth the trek.
To sum up, I highly suggest the city pass.  It is a handy tool to use, and all the parks are very much worth the the time.  Next time I go to California, I will pray that we will be buying the citypass.
You can find out more about the CityPASS at this website: http://www.citypass.com