Adrian Peterson's Behavior Out of Bounds
Adrian Peterson was arrested on Friday, Sept. 12, on charges of reckless or negligent injury to a child, making him one of the latest NFL players to be charged with a crime.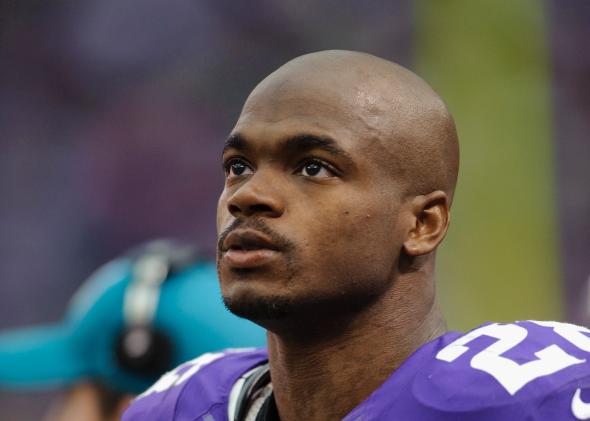 After being indicted in Texas on charges of child abuse for reportedly hitting his four-year-old son repeatedly with a switch, Minnesota Vikings star Adrian Peterson joins the list of players to be arrested for a serious incident. These charges bring with them a controversial debate about corporal punishment and child discipline in our society while also re-opening the discussion about the NFL's policy for athletes in trouble with the law.
Minnesota Vikings owners Zygi and Mark Wilf made the decision to reinstate Peterson on Monday, Sept. 15, after being benched for Sunday's game against the New England Patriots. However, this decision was reversed the following day, likely due to new evidence showing the injuries sustained by Peterson's son. Peterson has stated that he himself was punished this way as a child. "I have to live with the fact that when I disciplined my son the way I was disciplined as a child, I caused an injury that I never intended or thought would happen," stated Peterson.
Nor is this the first time Peterson has been accused of abusing his children. Just last year, the star was accused of abusing a different son who was also four years old at the time. The mother of this child, who is not the one involved in the recent incident, filed a case to Child Protective Services, but no charges were brought. Why? A Houston TV station has text messages from Peterson to the child's mother, in which the mother asks what happened to the child's head and if he was beaten in the car.
Peterson responded to this text by texting back: "Yep. I felt so bad, but he did it [sic] his self." Yet no move was made against Peterson. In both cases, the children have signs of physical injury. Hitting your child, especially if there is physical injury, is a serious offense and should not be tolerated by any team. Did Peterson's celebrity status get in the way of that investigation? A crime is a crime, and celebrities need to be held accountable for their actions, just as regular people are every day. The NFL should have a zero-tolerance policy for violent crimes such as this. It does seem the NFL is trying to create one, due to the criticism they took for the way they handled the Ray Rice case. It seems that criminal charges should have been filed against Peterson the first time he did something like this.
Peterson has recently been involved in another incident while out of jail on bond. Before the star player was about to take a drug test , he told a member of the testing staff that he had "smoked a little weed." While already facing charges, he continues to get himself into even more trouble with the law, further damaging his reputation. The Montgomery County, Texas district attorney's office has already filed a motion to disregard Peterson's 15,000 dollar bond and place him back in jail for violating his bond conditions.
With a slew of suspended NFL players who have been caught currently, notably former Baltimore Ravens running back Ray Rice, Cleveland Browns wide receiver Josh Gordon, and most recently Cardinals running back Jonathan Dwyer, the NFL has had to give out punishments for substance abuse and completely revamp their punishment policy regarding domestic violence. What was originally a two-game suspension for Rice was made an indefinite suspension, following the release of footage of the violence taking place. If the NFL has always had a strong policy for substance abuse offenders like Josh Gordon, why has it taken so long for domestic violence policies, as well as policies on other felony crimes, to circulate?
There is no doubt that Adrian Peterson is a superstar player in the NFL. In 2011, Peterson signed a seven-year contract extension worth 96 million dollars with 36 million guaranteed. The Vikings gave him this deal because they believed in his ability to help the team win, and they trusted his ability to lead the team. What example is this setting for the younger players? Committing a felony crime is not leading the team. Although the Vikings benched him against the Patriots, Peterson was slated to start against the New Orleans Saints on Sunday, Sept. 21, until the Vikings placed him on indefinite, but paid, leave. The NFL has yet to officially discipline Peterson due to these allegations, although they suggested to the Vikings that they ban Peterson from all team activities with the investigation ongoing. The Vikings replied by barring the star from all team activities indefinitely. Let's not forget that NFL merchandise sales is big business. The NFL netted 2.1 billion dollars in merchandise – and that was in 2010. The Baltimore Ravens were quick to remove all Ray Rice merchandise and jerseys from their official team shop following his release from the team. Peterson has already had his endorsement deal with Nike suspended, for whom he was a spokesperson. Will it be long before the Vikings follow suit with Peterson?
According to www.nflplayers.com, of the 100,000 high school seniors who play football, only 215 of them will ever make an NFL roster. Obviously, where Peterson is at as a player can be credited to his talent and hard work. Not only did he beat those odds, he achieved superstar status. However, due to his recent actions off the field, his reputation and his career could be in jeopardy. He has worked so hard to achieve a coveted status in a difficult sport, but now his lack of judgement off the field has him in trouble. While Peterson's 96 million dollar contract is given to him to carry the ball, these recent allegations might just carry him to jail. The player's trial is set to begin on Dec. 1, meaning that it would be too late for Peterson to return to the field this season, according to www.sportingnews.com. Peterson faces up to two years in prison and a 10,000 dollar fine if proven guilty.