Despicable Me 2 Review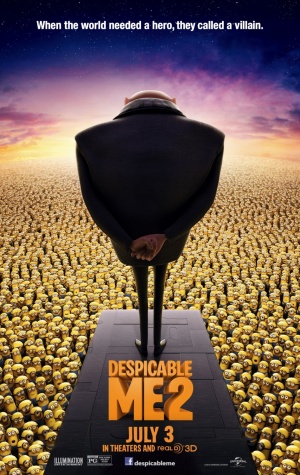 "Despicable Me 2" is a sequel to the smash hit original movie, bringing back all of the original characters including the fan favorite minions. The animated comedy is entertaining for all ages and brought in over 308 million dollars. This movie was ranked as America's tenth biggest animated motion picture. The majority of the music was done by Pharrell Williams a singer, songwriter, and rapper who also did the music for the previous film.
This movie featured a love interest for Gru who begins as his colleague. Gru has been hired by the Anti Villain League for his ability to think and act like a villain in order to catch other villains in the area. He spends his time working at the mall running a cupcake shop with his new love interest, Lucy. They bust the bad guys, spy on his daughters, do some dancing, and show the paternal sides of each character. Like the original, the Minions were the highlight of the film. They once again capture the heart of the audience through their crazy antics and one of a kind personalities. They help Gru defeat his enemy, El Macho and save the day from the new evil minions. "Despicable Me 2" is a light cheery movie that's relevant and entertaining for any age.