Let the Volleyball Season Begin!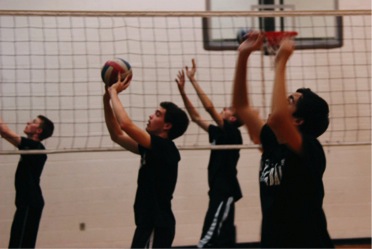 The boys volleyball season is starting off, or in other words it's finally here. Many boys over the years have asked athletics director Nate Agostini for a Boys' Volleyball team, but to no avail. However, this year, the school decided it was time to add the sport to the list of Horizon Honors athletic teams. Practices have already begun, and the boys and school are really supportive and excited: "Considering it's our first year [with a volleyball team], I expect there to be tremendous growth from the first day to the last day," shared Agostini.
There are a total of eight boys on junior varsity, ten on varsity, and two swing. The varsity team consists of senior Kole Powell, juniors Josh Smith, Zach Baker, Kyle Hickie, Charles Jamison, Patrick McPherson, and Tony Salatino. Sophomore Josh Drapkin and freshmen Aaron Tam and Trevor Weary are also on the team. Drapkin and Tam are on swing and it's their first year playing volleyball. "I'm an outside hitter for both junior and varsity," said Drapkin regarding his position. Tam is the setter for both teams.
The boys are ready to get started with the games, the varsity team had a scrimmage against Notre Dame Preparatory in Scottsdale on Feb. 26.
"They're coming along excellent. They're making great improvement everyday," stated the Coach Lisa Barlow.
Their first official game will be at Skyline High School in Mesa March 4. Coach Barlow has a quote from John Wooden that she and team go by: "Being the best is knowing that you did your best, to be the best that you are capable of becoming."