Another Season, Another Set of Sports
Spring time has come, and so has another set of sports Horizon Honors offers.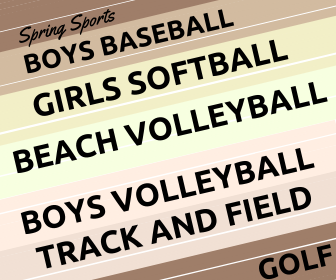 As 2019 begins, people talk of their fitness-related New Year's resolutions. Participating in spring sports is just one way to help that resolution become a reality. There are many sports available at Horizon Honors for boys, girls, and co-ed teams.
Co-Ed Track and Field is one sport offered that can help you feel awake all day long, since practices takes place one hour before school, unlike the rest of our spring sports. Teammates participate in hosting  events including shot put and discus. There are also the running events which include a variety of distances and hurdles to race. Only men are able to participate in the 110m hurdles, and girls can only participate in the 100m hurdles. There are also the long and triple jumps which both sexes can participate in. You can talk to Ms. Bors about any questions you may have regarding the sport.
Golf is another co-ed sport this season, and will improve upon the mini-golfing ability you may have accumulated over the years. This sport will teach you how to work on your long distance swings and accuracy. Every year, the golf team grows, with more and more players joining to practice their skills. You even get a little Vitamin D from this outdoor sport. Mr. Sheveland is able to answer any questions about anything regarding golf.
If you are looking for a sport where you can throw, catch, and swing, then baseball or softball may be the sport for you. Baseball and softball will accept anyone of any level to learn or improve their game. Both sports help with hand-eye coordination and agility while making sure you get a full workout as an added bonus. Mr. Agostini can answer any questions you may have about either sport.
The last outdoor sport offered is Girls' Beach Volleyball, which is a full-body sport that improves abilities like hand-eye coordination and communication skills. Mr. Maglunog can answer any questions regarding practice times, equipment, or other issues for girls' volleyball. The boys' equivalent is an exciting indoor sport that helps you to develop better hand-eye coordination and quicker reaction times. Any questions on boys' volleyball can be referred to Mr. Agostini.
To participate in any of these sports, there is a fee of $250, which includes uniforms and school equipment use. This price can be paid with tax credits, which means there may be no real dent in your wallet. Sports are also another way to meet people, especially those outside your grade. You can develop great friendships through the practices, bus rides, and games.
Depending on the sports you want to play, you may be able to double up. However, in order to play two sports at once, talk to Mr. Agostini to determine a schedule. The paperwork is fairly easy to complete, and one page must be filled out by your doctor. Paperwork is available in the front office, and is due Jan. 30th, along with the payment. Tryouts are that following week on Feb. 4 at different times depending on the sport. Contact who is listed above for tryout times for the sport(s) you are interested in playing. Make sure to get involved through these fun activities!